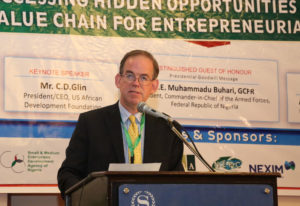 The Deputy Chief of Mission, United States Embassy in Nigeria, David Young, says the U.S. contributes $1 billion annually to develop Nigeria's human capital.
He made the disclosure on Thursday during a courtesy visit to the Nigerian Film Corporation (NFC) in Jos.
Young said as part of its efforts to improve Nigeria's human capital to shore up development, the U.S was investing in health, education and agriculture sectors among others.
He said, "We give Nigeria these interventions to develop these various sectors to enable them participate in the creative industry, which is a potential economic drive to the future of the country.
"We are also contributing towards improving primary education, small and medium enterprises, and the agriculture sector to help establish agro-allied industries to create job opportunities for youths."
The U.S Envoy said the country was also partnering with security agencies to train its personnel and the Independent National Electoral Commission to strengthen it to conduct credible elections at all levels.
Young pledged U.S support in collaborative productions, equipping Nigerian film practitioners and students with the requisite skills to thrive in the industry.
In his remarks, Managing Director of NFC, Dr Chidia Maduewke, lauded the U.S. for her collaborations and efforts towards developing the film industry, saying that the action has already yielded positive impact.