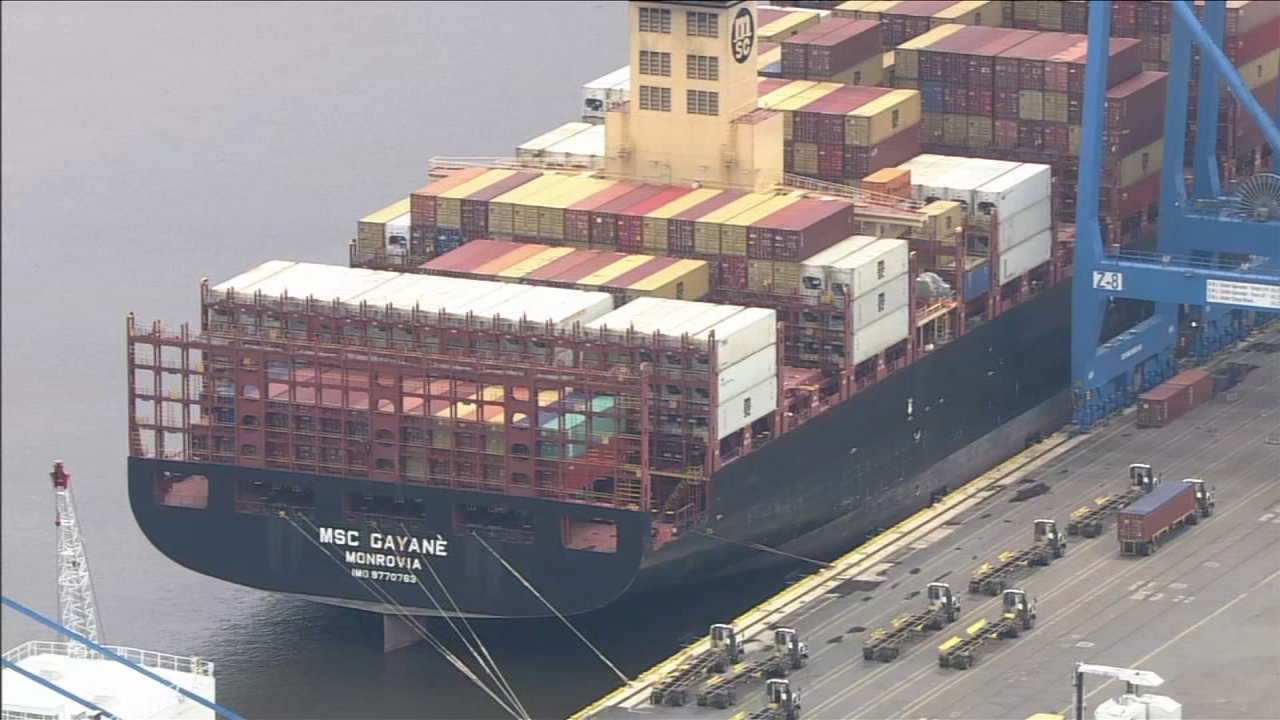 U.S. authorities have made four more arrests related to the record cocaine bust on an MSC containership at the Port of Philadelphia last week.
The investigation into the more than 35,000 pounds of cocaine smuggled in shipping containers on board the MSC Gayane has now resulted in six total arrests, including the arrests of the ship's Second Mate and an AB that was previously reported.
The six are for federal court hearings today to face charges of conspiracy to possess cocaine aboard a ship.
Last Sunday's record drugs bust at the Packer Marine Terminal in Philadelphia netted 17.5 tons of cocaine worth an estimated street value of about $1.1 billion, making it the largest cocaine seizure in the 230-year history of U.S. Customs and Border Protection.
The bust began June 16 when a multi-agency boarding team boarded the MSC Gayane, a 1,030-foot Liberian-flagged container ship, after it had arrived at the Port of Philadelphia. After detecting anomalies while examining seven shipping containers, the boarding team escorted the ship to its berth in South Philadelphia and continued its inspection. Inside the containers, authorities found a combined 15,582 bricks of a white, powdery substance which tested positive for cocaine. In addition to the cocaine, CBP agents seized another $56,330 found on the vessel that was believed to be linked to the drugs.
Prior to arriving in Philadelphia, MSC Gayane made port calls in Chile, Peru, Panama and the Bahamas.
A detailed affidavit related to the arrest of two crew members, Forofaavae Tiasaga, an able seaman, and Ivan Durasevic, the Second Mate, detailed an elaborate scheme to smuggle the drugs. During interviews with investigators, they admitted to helping load the drugs from small boats using the ship's crane and then hiding the drugs on board. For their effort, they expected to be paid around $50,000 each.
Mediterranean Shipping Company said in a statement that it "takes this matter very seriously" and is "grateful to the authorities for identifying any suspected abuse of its services."
"Unfortunately, shipping and logistics companies are from time to time affected by trafficking problems," the statement said. "MSC has a longstanding history of cooperating with U.S. federal law enforcement agencies to help disrupt illegal narcotics trafficking and works closely with U.S. Customs and Border Protection (CBP)."
For the Port of Philadelphia, last week's drug bust follows an incident in March in which a multi-agency team intercepted more than a half-ton of cocaine – the fourth largest recorded cocaine seizure in the history of the port. CBP's previous record cocaine seizure in Philadelphia weighed 1,945 pounds and occurred on May 23, 1998.
MSC Gayane remained at the Port of Philadelphia on Monday as the investigation continues.