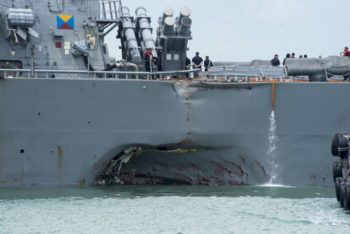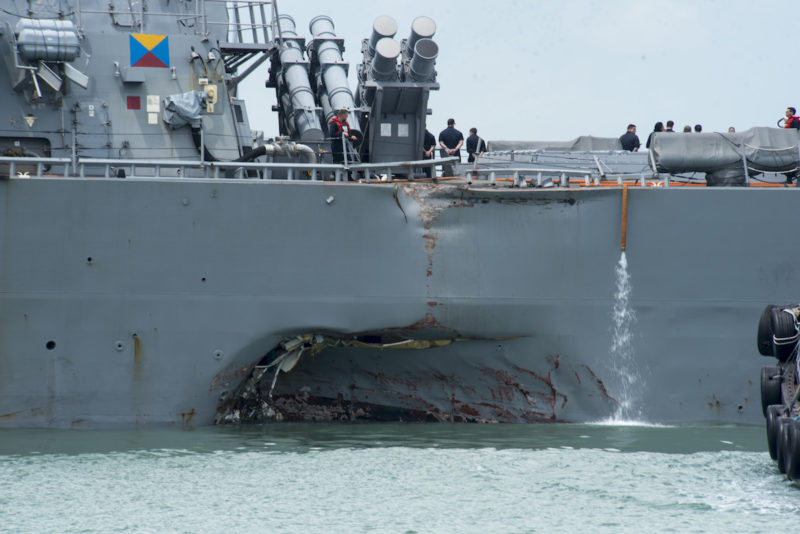 U.S. Navy and Marine Corps divers on Tuesday found some human remains inside sections of a U.S. guided-missile destroyer that collided with a merchant vessel near Singapore, the commander of the U.S. Pacific Fleet said.
The USS John S. McCain and the tanker Alnic MC collided on Monday while the U.S. ship was approaching Singapore on a routine port call. The impact tore a hole in the warship's port side at the waterline, flooding compartments that included a crew sleeping area.
U.S. Pacific Fleet Commander Admiral Scott Swift said an international search-and-rescue operation had found some remains and that the wider search for 10 sailors missing from the accident would continue until all hope was exhausted.
"The divers were able to locate some remains in those sealed compartments during their search," Swift told reporters at Singapore's Changi Naval Base where the USS John S McCain is docked for damage assessment.
"Additionally, the Malaysian authorities have reported that they have located potential remains. They are working to confirm and identify those remains."
He did not specify how many remains had been found.
The Malaysian navy said in a statement it had found a body eight nautical miles northwest of the collision site and it would transfer it to the U.S. Navy on Wednesday.
Swift also said Monday's collision – the fourth major accident in the U.S. Pacific fleet this year – could not be viewed in isolation from other incidents and that investigations were seeking to find a "common cause at the root of these events".
The John S. McCain's sister ship, the Fitzgerald, almost sank off the coast of Japan after colliding with a Philippine container ship on June 17. The bodies of seven U.S. sailors were found in a flooded berthing area after that collision.