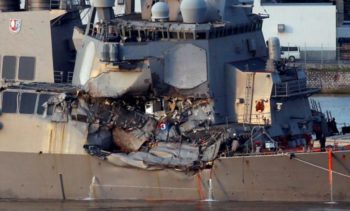 The United States will likely bar Japanese investigators from interviewing USS Fitzgerald crew manning the guided missile destroyer when it was struck by a cargo ship in Japanese waters killing seven American sailors, a U.S. navy official said.
The Philippines-flagged container ship ACX Crystal and the U.S. warship collided at night just south of Tokyo Bay on June 17. The U.S. deaths were the greatest loss of life on a U.S. Navy vessel since the USS Cole was bombed by militants in Yemen's Aden harbour in 2000. No one was hurt on the cargo ship.
At least six investigations are being carried out, including two U.S. Navy internal hearings and one by the United States Coast Guard (USCG). The Philippines government is also conducting an investigation.
The U. S. Coast Guard, which is investigating on behalf of the National Transportation Safety Board, has interviewed the crew of the container ship.
But the U.S. navy official, who declined to be identified, said warships were afforded sovereign immunity under international law and foreign investigators were not expected to get access to the U.S. crew.
"It's unlikely Japanese or Philippine authorities will have direct access to crew members," said the U.S. official.
The U.S. Coast Guard would instead provide summaries of crew interviews to the Japan Transport Safety Board (JTSB), which would share them with the Japan Coast Guard (JCG), he said.
Declining access may be viewed by Japanese investigators as falling short of a pledge made by Seventh Fleet commander Vice Admiral Joseph P. Aucoin of full cooperation in the investigation.
"We have asked for access to the U.S. ship and its crew and can't proceed until we hear back from the U.S. Navy," said a spokesman for the JTSB. He said he was unaware that the U.S. side was likely to turn down the request.
A Seventh Fleet spokesman said the navy would "share information in accordance with protocols."
In the first detailed account from someone involved in the accident, the ACX Crystal's captain, in a report seen by Reuters, said his ship signalled the Fitzgerald with flashing lights about 10 minutes before the collision, but the U.S. ship did not respond or alter course.
The Fitzgerald will enter dry dock at its home port in Yokosuka, Japan, where engineers will assess damage and patch it up in preparation for a return to the United States for full repairs.
"We are still working through the timing and how the ship will get there," the Seventh Fleet spokesman said. 
Copyright Ships & Ports Ltd. Permission to use quotations from this article is granted subject to appropriate credit given to www.shipsandports.com.ng as the source.