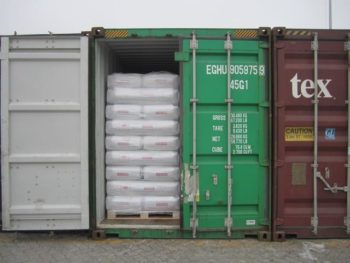 Ahead of the July 11 deadline for implementation of the Revised Import Guidelines, the Shippers Association of Lagos State has asked the federal government to suspend the policy on palletisation of imports.
The Nigeria Customs Service memo on further requirements to Federal Ministry of Finance dated April 11, 2017, indicated among others guidelines that shipping lines are now required to ensure that imports into Nigeria are well arranged in pallets and used spare parts must be packed in cases and the cases put atop pallets.
National Public Relation Officer, Joseph Attah had in the statement said that shipping lines which fail to 'palletise' cargo will be sanctioned and maybe asked to take back onboard the non-palletised cargo.
But speaking in a chat with SHIPS & PORTS DAILY, President of the association, Jonathan Nicol said the policy will violate the national law of packages and will make shippers pay more on freight charges.
According to him, the quantity of goods which ought to go into the container will be reduced as a result of pallets taking up spaces, which will increase the amount of container used to ship the goods.
"We have asked the Nigerian Shippers'Council to go and discuss with the ministry of finance and suspend the policy. Whoever introduces that policy is not helping the industry at all because it will reduce import and the ports will be littered with pallets.
"That was why they introduce container in the first place so that importers can maximize space. So if we now introduce palletization, what we normally use one container for, we take about two and a half containers and shippers will be paying more on freight and local charges,"he said.
Also speaking, a member of the Board of Trustees of the association, Nicodemus Odolo said the policy that every cargo has to be palletised is very wrong.
He noted that not all cargoes needs to be palletised adding that the policy if implemented would lead to high cost of freight and port congestion.
"The policy that every cargo has to be palletised is very wrong. There should be some specific cargo that has to be palletized, but generalising it is wrong. What that means is that if I am bringing in 20 metric tonnes of cargo, they are supposed to be in one box. By implying palletization, the space will be reduced and that will mean taking only 15 tonnes and another container to carry the remaining five tonnes.
"That will double my freight, my shipping charges, clearing and transportation and more so, when there are more boxes, more containers coming, that may lead to port congestion. So it cannot work for us as shippers. We can't accept such a thing. Increasing the number of boxes coming will create congestion and when that happens, there is going to be demurrage and storage charges,"he said.
He said many Nigerian shippers have relocated to other countries to do their business because of unfavourable policies by the government which have resulted in high cost of doing business in Nigeria and importers operating below 40 percent.
"We should not subscribe or sign every convention or treaties they are signing in developed country because the developed countries do not want the under developed country to develop.
"A major challenge faced by shippers is that cost of doing business in Nigeria is too high. Shippers and importers are operating below 40 percent. Those who can have their way have gone to other countries to do business,"he said. 
Copyright Ships & Ports Ltd. Permission to use quotations from this article is granted subject to appropriate credit given to www.shipsandports.com.ng as the source.