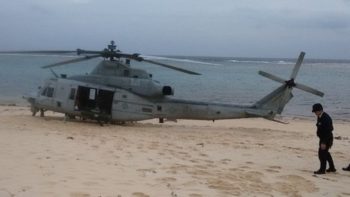 A U.S. attack helicopter made an emergency landing in the grounds of a hotel on Japan's Okinawa island on Monday, the latest in a string of mishaps involving U.S. military aircraft that has fueled public opposition to the U.S. presence there.
The helicopter crew landed the aircraft because a warning light had come on, according to Japanese public broadcaster NHK, which showed the helicopter resting on its skids on the ground. No injuries were reported.
Representatives of the U.S. Marine Corps (USMC) in Okinawa did not immediately respond to a request for comment.
Resentment has simmered among residents of the southern island who bemoan what they see as an unfair burden in supporting the U.S. military presence in Japan.
Among recent incidents, a USMC transport helicopter made an emergency landing on an Okinawan beach on Saturday because of a faulty rotor. Earlier, a window fell from a military aircraft onto a school playground.
Such accidents, as well as occasional incidents of crime committed by U.S. service personnel, have fueled opposition to the U.S. presence on the island.
Located strategically at the edge of the East China Sea, Okinawa, which was under U.S. occupation until 1972, hosts some 30,000 military personnel living and working on bases that cover a fifth of the island.
Agency Report