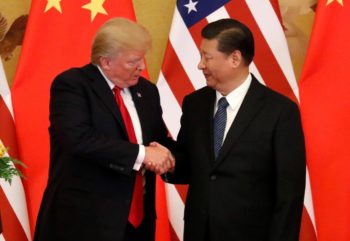 China on Friday vowed it would fight back "at any cost" with fresh trade measures if the United States continues on its path of protectionism.
The announcement came hours after President Donald Trump threatened to slap an additional $100 billion in tariffs on Chinese goods.
In light of China's "unfair retaliation" against earlier U.S. trade actions, Trump upped the ante on Thursday by ordering U.S. officials to identify extra tariffs, escalating a high stakes tit-for-tat confrontation with potentially damaging consequences for the world's two biggest economies.
On Wednesday, China unveiled a list of 106 U.S. goods – from soybeans and whiskey to frozen beef and aircraft – targeted for tariffs, in a swift retaliatory move only hours after the Trump administration proposed duties on some 1,300 Chinese industrial, technology, transport and medical products.
Washington has called for the $50 billion in extra duties after it said a probe determined Chinese government policies are designed to transfer U.S. intellectual property to Chinese companies and allow them to seize leadership in key high-technology industries of the future.
Responding to Trump's latest comments, the Chinese commerce ministry reiterated that China was not afraid of a trade war even though it did not seek one, and accused the United States of provoking the conflict.
"If the United States disregards the objections of China and the international community and persists in unilateralism and trade protectionism, the Chinese side will follow through to the end, at any cost, and definitely fight back resolutely," a spokesperson was quoted as saying in a statement on the ministry's website.
The ministry has called for a media briefing on Friday night, in an unusual move on a public holiday.
Earlier in the day, Chinese state media had slammed Trump's threat of more trade action as "ridiculous".
"This latest intimidation reflects the deep arrogance of some American elites in their attitude towards China," the state-run Global Times said in an editorial.
While Beijing's claims that Washington is the aggressor and is spurring global protectionism, China's trading partners have complained for years that it abuses World Trade Organization rules and propagates unfair policies at home that lock foreign firms out of some sectors as domestic champions are being nurtured.
China has repeatedly vowed that it would open up sectors such as financial services.
President Xi Jinping next week is expected to unveil fresh measures on reform and his country's opening up at the high-profile Boao Forum, China's equivalent of Davos, in the southern island province of Hainan.
Agency Report