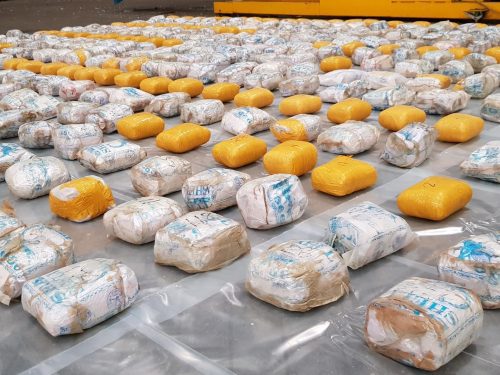 The United Kingdom has seized hundreds of kilos of heroin stashed inside a shipping container at the Port of Felixstowe in what is being called the largest heroin bust ever in the country.
According to the UK National Crime Agency, intelligence agents had identified a containership suspected of carrying a large drugs shipment to Antwerp, Belgium.
The vessel docked in Felixstowe on August 1, at which point the vessel was boarded by officers who removed a container for inspection. Inside, authorities found approximately 398 kilograms of heroin hidden among towels and bathrobes.
The drugs were removed and the container was put back on the ship, which continued its voyage to Antwerp. Authorities surveiled the container as it was unloaded in Antwerp and transported to Rotterdam. Finally, on August 5, the smugglers moved to unload the contents on the container, prompting the Dutch Police to move in and make arrests.
In total, authorities arrested three people, including two in Rotterdam and a third suspect in England.
Authorities say the the heroin has a wholesale value of GBP9 million, and some GBP40 million street value.
"The seizure of such a large quantity of heroin is the result of a targeted, intelligence-led investigation, carried out by the NCA with international and UK partners, said NCA regional Operations Manager, Colin Williams. "It is almost certain that some of these drugs would have been sold in the UK, fueling violence and exploitation including what we see in county lines offending nationwide.
The seizure marks the latest major bust involving large quantities of drugs being smuggled in shipping containers on commercial vessels.
Back in June, authorities in the United States found nearly 20 tons of cocaine on board the MSC Gayane, which was ultimately bound for Rotterdam, in what is now the largest-ever drugs cocaine seizure in the 230-year history of U.S. Customs and Border Protection.
Just last week, Germany said it seized 4.5 tonnes of cocaine from a container at the port of Hamburg, marking the nation's biggest drugs haul to date. The shipping container in that case was loaded in Montevideo, Uruguay and bound for Antwerp.