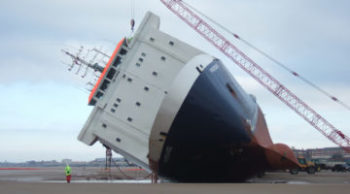 The UK Marine Accident Investigation Branch (MAIB) has published its Annual Report detailing the Branch's activities during 2016, revealing a slight uptick in the number of reported incidents compared to the previous year.
The annual report includes an overview of the accidents reported, summaries of investigations started, details of investigation reports released and recommendations issued, and marine accident statistics for the year.
According to the report, in 2016, the MAIB recorded a total of 1,190 accidents to UK vessels or in UK coastal waters, involving 1,310 vessels. Forty-two of these accidents involved only non-commercial vessels, while 471 were occupational accidents that did not involve any actual or potential casualty to a vessel. There were 687 accidents involving 750 commercial vessels that involved actual or potential casualties to vessels.
The number of accidents during 2016 (1,190) represents a 12% increase in the number of accidents reported in 2015, with 1,057. The MAIB also started two 29 investigations in 2016, up from 28 in 2015.
In addition, the MAIB issued 57 recommendations during 2016 to 64 addressees, however, one of the recommendations was later withdrawn. The MAIB reported that 90.6% of the recommendations made during 2016 were accepted, compared with 83.7% in 2015.
In the Chief Inspector's Report, Chief Inspector Steve Clinch highlighted the publication in April 2016 of the MAIB's report into the sinking of the Cyprus registered cargo ship MV Cemfjord with the loss of her entire 8-man crew.
"This was a tragic, yet avoidable accident, but at the time it received very little attention from the mainstream media. Similarly, the publication of the MAIB's report received only muted interest despite the death toll. I would urge all mariners to read the report as it provides a sobering example of what can happen if we fail to respect the awesome power of the sea," writes Clinch.
Of note, there were no UK merchant vessels of greater than 100gt lost in 2016.
"The overall accident rate for UK merchant vessels >100gt has fallen to 78 per 1000 vessels from 85 per 1000 vessels in 2014," the report stated. Three crew lost their lives on UK merchant vessels >100gt during 2016. Two UK registered small vessels (<100gt) losses were reported to MAIB in 2016 compared with one in 2015.
"Eight commercial fishing vessels were lost in 2016 compared with 13 in 2014. The average age of the boats lost was 30 years; 63% of these were small vessels under 15 metres (loa). An average of 16 commercial fishing vessels per year have been lost during the last 10 years.
"Nine fishermen lost their lives in 2015 compared with seven lives lost in 2015.
"One foreign flag vessel was lost when trading in UK waters and there was only one reported death of crew working on foreign flag vessels," the report stated.
Copyright Ships & Ports Ltd. Permission to use quotations from this article is granted subject to appropriate credit given to www.shipsandports.com.ng as the source.