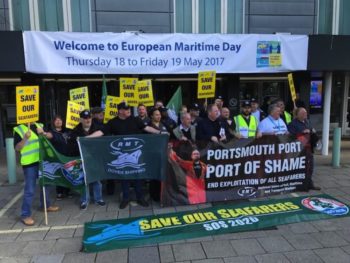 UK maritime union RMT staged a protest over seafarer employment practices outside the 10th European Maritime Day conference in Poole on Thursday.
As part of its Save Our Seafarers 2020 campaign designed to protect UK seafarer jobs, RMT is highlighting a number of perceived injustices. It claims that 56% of the 500,000-plus seafarers who work in European waters "are non-EU nationals on poverty pay", while of the 87,000 Ratings jobs in the UK shipping industry only 10% are held by UK seafarers.
Particular target of the protest was a local ferry company alleged to be practising low-cost crewing by employing non-EU seafarers. while other recent instances of substandard Indian-flagged and –crewed vessels found operating in the North Sea have added to RMT's concerns.
The union's argument runs that vessels operating almost exclusively in UK waters or on the UK continental shelf should be subject to the same employment conditions – including a national minimum wage level – as UK land-based industries in the interests of fair competition.
Furthermore, the number of UK Ratings has fallen by 25% since 2011, RMT claims. With some 3,000 more UK Ratings set to retire by 2020, if training and employment have not increased by then the country will find itself exposed to "negative economic, social and security effects of a maritime skills deficit."
RMT's national secretary Steve Todd stated: "Our objective is simple – a guaranteed future for the UK shipping industry based on the development of a skilled and expanded domestic workforce that will secure the economy of areas like Poole well into the future."
Separately, officers' union Nautilus International is lobbying UK political parties ahead of next month's general election to commit to supporting British shipping and the employment and training of British seafarers, in order to protect the jobs and livelihoods of the country's 23,000 seafarers.
Specifically, Nautilus says it is vital that the next government takes urgent action to implement the recommendations of the Maritime Growth Study (Mountevans Report) and to adopt the SMarT Plus proposals for improved seafarer training support.   
Copyright Ships & Ports Ltd. Permission to use quotations from this article is granted subject to appropriate credit given to www.shipsandports.com.ng as the source.