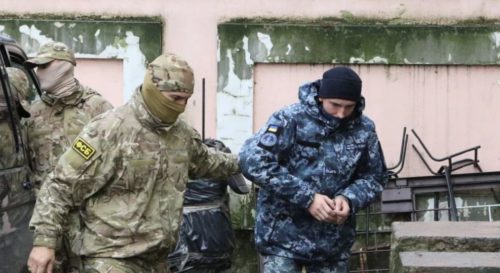 Ukraine has submitted an appeal to the International Tribunal for the Law of the Sea (ITLOS) requesting Russia's release of three detained Ukrainian Navy vessels and the 24 sailors on board.
The boats and sailors were arrested following a skirmish on November 25, 2018, which occurred after the three vessels attempted to enter the Sea of Azov via the Kerch Strait.
The vessels were headed to the Ukrainian port of Mariupol on the Sea of Azov.
Ukraine submitted the request to ITLOS on Tuesday, asking it to prescribe provisional measures "to preserve the respective rights of the parties to the dispute or to prevent serious harm to the marine environment".
In its appeal, Ukraine alleged a violation by the Russian Federation "of the sovereign immunity accorded to warships, naval auxiliary vessels, and their passengers and crew under Articles 32, 58, 95, and 96 of the Convention and customary international law".
Ukraine is seeking an order of the tribunal to compel Russia release the Ukrainian naval vessels named Berdyansk, Nikopol, and Yani Kapu, suspend criminal proceedings against the detained Ukrainian servicemen, refrain from initiating new proceedings, and allow them to return to Ukraine.
"For the Russian Federation, it is a political game and blackmail, and for us, it is a struggle for the fate of our citizens and respect for the requirements of international law," Ukrainian President, Petro Poroshenko, said in a social media post.
The Ukrainian Ministry of Foreign Affairs expects the hearing to be scheduled within the next few weeks, with a decision issued "soon thereafter".
Russia's actions in November 2018 have already prompted a reaction by the United States, which, in cooperation with Canada and the EU, sanctioned six Russian companies in response to Russia's "unjustified military actions".