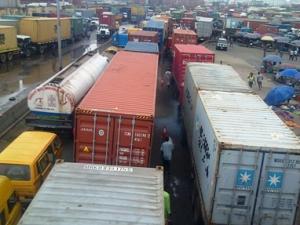 Again, activities at the nation's premier port have been massively affected by another unnecessary demonstration. It is appalling that this completely needless stoppage to free flow of business activities in Apapa has become an annual ritual that must be observed, and at a cost to businessmen in the maritime industry. The reason for this obstruction is simple: truckers keep complaining about extortion of their men by security officers attached to the port. In 2017, the truck drivers opted for a peaceful protest and eventually pursued traffic officials away from their duty posts and assigned their men instead to manage traffic. But this time the story is different as the truck drivers reportedly took the protest further to the extent of destroying properties belonging to the Nigerian Navy in addition to preventing cargo-laden trucks from exiting Apapa. This is in addition to an on-going strike action.
The activities of security officers in and around the ports are not shrouded in secrecy. That people are extorted at the ports is no longer news. It is a common occurrence. Truckers are the major victims in this regard. They are heavily extorted by different security agencies and these are not mere speculations. These allegations have been substantiated by various studies, both independent and government sponsored, that have been carried out on port operations in Nigeria. In spite of the recommendations and incessant calls for behavioural change, the situation has been on an upward spiral. The newly introduced well-intended truck call-up system has now become another avenue for extortion. The manner and mode of extortion is so blatant that one would for a moment assume the security officials are actually criminals in uniforms. Yet the top hierarchy of the various security agencies have continued to live in denial.
In spite of this provocative behaviour of the men in uniform, we believe citizens are expected to act and conduct themselves with a high sense of decorum and express grievances without promoting a breakdown of law and order. We therefore condemn the actions of the truck drivers in its entirety as it negates the expectations of civil coexistence in a society with law and order. Whilst we appreciate citizens' constitutional right to protest, no law allows any association of citizens to express grievances by destroying people's properties and in this case, government properties. We believe there are procedural channels to convey disappointments in a civilised environment and such channels of communication should be duly honoured in advocating for behavioural change among our security officials.
In the same light we call on the Nigerian Navy and other security agencies that have been accused of extortion at the port to urgently address the issues at stake before we experience a total degeneration into anarchy. The Base Information Officer, Western Naval Command of the Nigerian Navy, Lieutenant Commander Charles SeleBrinemigha, in a statement submits that the Commander NNS Beecroft had personally given out his telephone numbers to drivers to report any act of extortion and nothing of such has been reported so far. It is important for the Navy to go beyond giving out numbers for people to report their experiences. It is common knowledge that people that report such acts are in danger of being treated unkindly. The Navy and other security agencies, including LASTMA, NPA and Nigerian Police, should devise internal strategy to fish out the perpetrators of this dastardly act that has eaten deep into their operations. Many have suggested that the extortion will not abate because the top security echelon are benefiting from the despicable act. The only way to prove this wrong is for the top hierarchy of Navy and other securityagencies to undertake strategies to deal with their internal mess in order to avoid another confrontation. The action of the truck drivers is borne out of frustration and helplessness.
This ugly trend must be arrested to promote the ease of doing business in our ports. The current situation is already having negative impact on ship-owners who are forced to bear the brunt of the crisis. As a result of the protest and the withdrawal of Naval officers, which has also obstructed the truck call-up system, traffic congestion has returned to the roads leading to the ports and we are now back to the excruciating experience of the past. Consequently, trucks moving out of the ports have also drastically reduced from an average of 700 to less than 50 per day. The federal government needs to urgently call the security agencies to order. It is wrong to use their service to the nation as a basis to extort people. It is despicable and should be so treated. It is difficult to blame the truck drivers for their actions when they have been clearly pushed to the wall. This recurring trend is a negative signal that must be nipped in the bud lest we are faced with a total breakdown of law and order in our ports. For starters we do not need these many security agencies at the port; and they should be pruned down immediately.
Copyright Ships & Ports Ltd. Permission to use quotations from this article is granted subject to appropriate credit given to www.shipsandports.com.ng as the source.