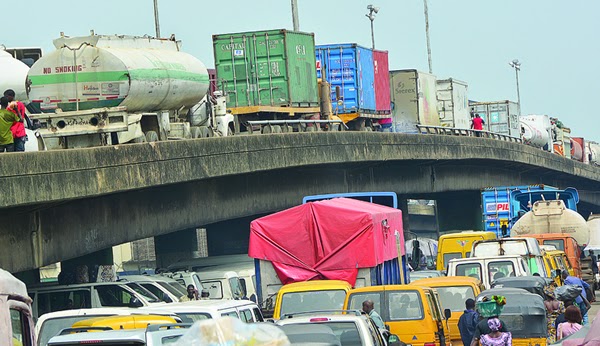 The role of uniformed men in perpetuating the infamous Apapa traffic gridlock cannot be underestimated. Their negative activities on Apapa roads and bridges have long reached alarming proportion, such that there is nothing else to do than to strictly call them to order.
During a recent stakeholders meeting to brainstorm on solutions to the seemingly intractable Apapa traffic gridlock, the Port Manager of Apapa Port, Nigeria's premier port, Funmilayo Olotu, cried out against the activities of uniformed men on the roads of Apapa and its environs. According to the Port Manager, trucks have continued to stay on the roads and bridges because of the activities of uniformed armed men who stop their movement to the port. She stressed that trucks are not supposed to queue up on the bridges, but that this directive is being violated by uniformed and armed men.
Olotu said, "We are talking about why the trucks should not be staying on the road, why are they there? Because there are armed security men on bridges passing, controlling, saying you can go, you cannot go. Can we have the armed men off the bridges so that the trucks can be moving? We know the points where we can stop the trucks."
Decrying further the negative activities of uniformed security men on Apapa roads, Olotu said, "One of the things we have noticed is that some of the illegal trucks approaching the port either have uniformed men driving them or escorting."
Olotu's statements constitute a confirmation of the series of allegations constantly heaped on armed security men controlling traffic in Apapa. On several occasions, they have been accused of extortion and bribery. Truck drivers and clearing agents have been accusing them of constituting impediments to the free flow of traffic. They have even been accused of being responsible for the NPA truck call-up system not working. Because of mindless extortion and dereliction of duty, they are known to have clashed with truck drivers with consequent loss of lives or injuries.
Indeed, the role that uniformed men have played over the years in the notorious Apapa gridlock cannot be downplayed or ignored. As a matter of fact, their role has been more negative than positive. Without any fear or favour, one can say that uniformed men deployed to control the Apapa gridlock had always turned out to be part of the problem instead of the solution. There is no gainsaying that most of them have so benefited from the notorious gridlock that they would not wish to see the end of the menace.
It is a known fact that one of the major reasons that Apapa gridlock has refused to go is corruption among the uniformed armed men who are saddled with the responsibility of controlling the traffic. To most of them it is more or less a windfall or a golden opportunity to make money. Hence, they convert their assignment to a lucrative business where they must make money daily. They extort, and lend themselves to bribery by truck drivers who want to be allowed to park indiscriminately on the roads, streets and bridges to the detriment of vehicular movement. Sometimes, they allow truck drivers to drive against traffic after money has exchanged hands.
Corruption among the security agents working on Lagos ports access roads has become so dire that any effort at finding a lasting solution to the Apapa traffic problem must address it. It can be recalled that one of the highlights of the Presidential intervention on the Apapa gridlock last year was the sack of all naval and military personnel involved in controlling traffic in Apapa, and the dismantling of all the numerous checkpoints on the port access roads. In spite of these, corruption and extortion of truck drivers still persisted as uniformed men who worked with the Presidential Decongestion Task Force proved that they were not immune to the infectious corruption on Apapa roads.
At present, uniformed armed men have continued to be part of the Apapa gridlock problem. It is, therefore, high time concerned security authorities called their men to order. The continued silence of the security agencies in the face of the deluge of allegations against their men with regards to the Apapa traffic debacle does not portray their organizations in good light. They should be able to control and discipline their men and ensure that those detailed to be part of the control of Apapa traffic protect the image of their organizations. Where they continue to keep quiet can only mean one thing: that they are in tacit support of what their men are doing or that they are indirect beneficiaries of their excesses as often alleged.
As stakeholders continue to labour to see how they can bring an end to the Apapa gridlock, security agencies should not be found wanting, or be seen to be sabotaging these efforts. They should be able to have complete control of the activities of their personnel, and ensure that they do not violate laid down rules and procedures for tackling the traffic mess. The security and law enforcement agents should be found only where they are detailed to be in order to ensure that the roads and bridges are free from bottlenecks.
We deplore a situation where the personnel of various security and law enforcement agencies should be working at cross-purposes with other stakeholders on Apapa roads for personal benefits. We, therefore, call on them to turn a new leaf, as free port access roads and smooth-moving traffic will be beneficial to all. Enough, they say, is enough.
Copyright Ships & Ports Ltd. Permission to use quotations from this article is granted subject to appropriate credit given to www.shipsandports.com.ng as the source.