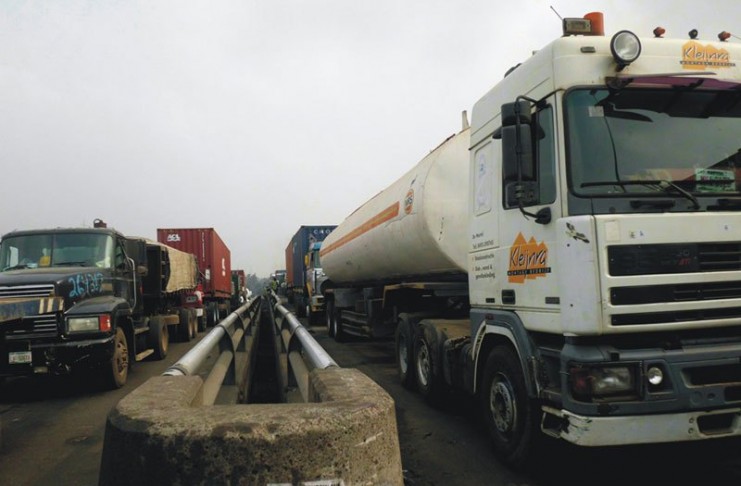 As the two weeks ultimatum issued to the Presidential task force set up to clear the Apapa gridlock ended weekend, truckers have appealed to the Federal Government to extend the tenure of the team in order to ensure sustainability of measures put in place so far to restore sanity within the port environs.
The Presidency had on May 22 set up a task force headed by Vice President Yemi Osinbajo to clear trucks parked on port access roads in Lagos. 
Speaking at a joint press conference with the task force team at the end of a media tour of the port access roads in Lagos on Friday, the General Coordinator, Council of Maritime Truck Unions Association (COMTUA), Steven Okafor, who lauded the team for the effort put in place to clear the Apapa gridlock, however stated that failure to extend their tenure may worsen the situation.
He said, "We cannot compare what the task team achieved in two weeks to any effort put in place in the last few years. We are requesting that the task team tenure be extended so that they can completely sanitize the system. Without that, we will go back to where we were or even worse. We need to stabilize what we have now and sustain what they have achieved. Government should please help us and make sure that they extend their tenure."
Speaking earlier, Chairman of the Presidential Task Force, Kayode Opeifa, said progress has been made in clearing the Apapa traffic constituted by articulated vehicles adding that the team has achieved major goals set out in its terms of reference outlined by the government.
He said one of the terms of reference, which bordered on elimination of extortion of truck drivers, has been addressed. He assured that when the trailer park at Tin Can Island and other parks along the Tin Can port area are completed and fully operational, the gridlock will be history.
Opeifa said, "We believe you have visited Ikorodu road,  Funsho Williams Avenue, Apagbon bridge, Eko bridge; we have been able to completely take away trailer and trucks. From Ijora Olopa to Point road, we have been able to successfully remove trailers, tankers and containerized trucks stationary from that point up to the top of Marine Beach at about descending to Lilypond terminal. From our calculation, that is about a kilometer from the port entrance. We believe pending the operation of the Tin Can Island Port Truck Park A, that is how far we will be able to go.
"Our assignment is predicated upon the fact that Truck Park A will be available, Trailer Park B, C and D would have been cleared by the Lagos State Government for us but they are still not available.  It is a work in progress because it takes a lot of stakeholder engagement for us to clean it. We don't want to displace anybody from his normal means of livelihood. Our two weeks will end tomorrow (Saturday), we have cleared 100 per cent Eric More, Funsho Williams down to Eko Bridge, up to Ijora Olopa and Ijora 7up.
"In terms of putting an end to extortion, truck removal from the bridge, deploying effective traffic management plan, deployment of appropriate call up system, it is predicated upon the availability and full operation of Lilypond truck terminal, which is available for us now courtesy of the Nigerian Ports Authority (NPA) and it is going to be the point from where we will have the call up implementation. From the top of Marine Beach to Lilypond is truck route, but empty containers can now pass through to go down and enter Lilypond from where they come out."
Also speaking, the Traffic Manager of Lagos Port Complex, Apapa, Victor Ogoni said Nigerian Ports Authority (NPA) will commence the much-anticipated electronic call-up system of trucks at the port in August this year.
According to him, "The manual call-up system is the one that we deployed now but that is a temporary one. The ultimatum is the electronic call-up system, which my management is taking seriously. It is undergoing procurement process as we have heard before and would be deployed in August this year."