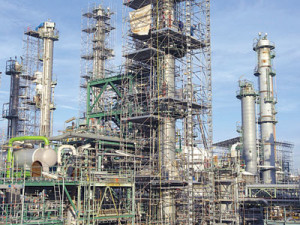 The Vice-Chancellor of the University of Lagos, Professor Oluwatoyin Ogundipe, has disclosed that the university is working at setting up a conventional, standard locally-build refinery with the aim of boosting the nation's refinery capacity.
It is expected that the project would be funded by the Central Bank of Nigeria (CBN) and Bank of Industry (BOI).
Oluwatoyin made this disclosure at the 1st Annual General Meeting (AGM), and 2nd Alumni Lecture of the UNILAG Faculty of Engineering Alumni Association.
He described UNILAG as an institution that has produced graduates in Chemical Engineering, and as such, students of the school needed to be exposed to the refining process of petroleum products.
He said, "A committee has been set up to under-study the process from Ahmadu Bello University, Zaria. If you go to some of the universities in Texas, when their students graduate, because they have refineries in their universities they do not need to do certain courses when it comes to professional courses.
"Engineering has left that level of just sitting down and starts computing. It is now about turning ideas into realities. It is about producing entrepreneurial skills and developing the skills in the life our students. We need to develop our students, all of them have skills that are unique to them, and the skills can help them set up their own businesses in future. Most of our students can develop applications, while some are with different skills. As a Vice-Chancellor, faculty by faculty, I am going to interact with students to encourage them, to develop their skills and we have already gotten the commitment of Central Bank of Nigeria (CBN) and Bank of Industry (BOI) for funds."