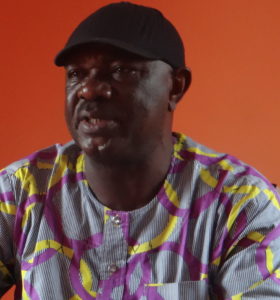 Founder of the National Association of Government Approved Freight Forwarders (NAGAFF), Dr. Boniface Aniebonam, in this exclusive interview with a team of SHIPS & PORTS DAILY reporters, speaks on various issues including Customs operations, the Council for Regulation of Freight Forwarding in Nigeria (CRFFN) and dollar charges by the Nigerian Ports Authority (NPA), among others.
Excerpts:
Your meeting with Customs Comptroller-General, Hameed Ali, who was at the NAGAFF headquarters recently is contrary to the impression people have of him. Ali is believed to be aloof and not interested in relating with freight forwarders. What is this new romance all about?
Well, I don't think there are issues that are so cogent or very important. The port is a place whereby people say whatever they like; we are all aware when he came into power being appointed as the CG of Customs, it was like the expectations were dashed. It is obvious that those who still remember just a little in the past appreciate the fact that critical stakeholders were agog in the sense that the manner Customs officers were going for that position as if there was something else other than service. From the snippet, it is like the President is not very comfortable and therefore with the hindsight of his agenda of stemming corruption out of Nigeria; I will want to believe that he decided to bring in a neutral person and that could have led to the emergence of Hameed Ali as the CG of Customs and then he came in with a military background and having been in public service as former (military) Governor of Kaduna State years ago. If you are really conversant with leadership, you will begin to appreciate the fact that the CG of Customs should be seen as an image maker; someone who is involved in administration and management in terms of operation and policies.
Customs is not just about revenue collection, they are also to facilitate trade, but here is a man with a military background who is known for dictatorial tendencies.
People tend to misunderstand the word trade facilitation. I don't think we are using it most appropriately. The concept of trade facilitation is about legitimacy; what you ought to do, not necessarily breach. Trade cannot be facilitated when you are criminally involved. You can also go further in terms of simplification of procedures, providing tools of appropriate measures to enhance operations in the port like the matters of scanning processes. These are tools for trade facilitation; just to make things much easier but that is when you are involved in legitimate business. When you are doing the right thing and in the cause of doing your business and there is an undue obstruction, then that is where one could say that someone is not facilitating trade.
I know you never supported the idea of intercepting containers on the highways after they are cleared from the port but we are seeing more of that happening these days.
Like I said we have been looking at different views in interceptions, not necessarily whether Customs has the power to do so or not. The law is very clear under relevant sections of the Customs Law; their capacity to patrol freely within the territorial boundaries of Nigeria and to visit any place except a dwelling area to arrest on any matter that borders on the evasion of customs duty.
Those interceptions have exposed a lot of abuses like the abuse of customs processes.
What is the way out because these interceptions on the highways are becoming too rampant?
The way forward is for people to understand that laws and regulations are meant to be obeyed.
How about having more scanners at the port?
It is not about scanners, it is about the will of people to respect the rules of engagement. People must ensure they do genuine declaration for Customs purposes.
If you don't do that, government will not shy away from collecting its revenue – trade facilitation or not. Government needs the money. There is need for aggressive enlightenment to let people know the danger of disobeying Customs regulations. Laws are meant to be obeyed. When people disobey the law, the agents of government should enforce the law to serve as a deterrent and that is why there are penalties.
Do you see the recent invasion of the market at Sango Ota in Ogun State by Customs officers in the dead of the night and breaking into shops as being within the ambits of the Customs law?
In law, I don't see anything wrong in that. Maybe going to that place in the night might be to avoid causalities when very few people are there. In other words, for them to visit such a place; like I mentioned earlier, Customs have the authority and power to patrol freely within the territorial boundary in Nigeria and to visit any place except a dwelling house where there is a suspected case of smuggling. It is there in the law.
There seems to be a new romance between NAGAFF and the Association of Nigerian Licensed Customs Agents (ANLCA). What informed this and what difference is it going to make?
Well, I think this is the best thing that is happening this year in the maritime industry. Customs licensed clearing agents are under the canopy of ANLCA. The membership is based on licenses issued single-handedly by Customs and of course NAGAFF is a freight forwarding organisation under the canopy of the Council for the Regulation of Freight Forwarding in Nigeria (CRFFN), whose members constitute licensed customs agents, individual practitioners and corporate agencies. ANLCA and its members are secondary freight forwarders. I was surprised when I heard ANLCA members are not freight forwarders. This quiet interesting because ANLCA members specialise on Customs matters but a freight forwarder has a higher version of the knowledge to be able to coordinate all the activities as it were. Of course for you to be a freight forwarder you should understand that you need to go for training and be certified by an approved institute. That means you are a professional but if you are a licensed customs agent, you should not be addressed as a professional because it is a vocation. There is no qualification other than the licensing code of Customs that says you must be literate in English and familiar with Customs conduct and of course must be a corporate body.
The past disagreement between ANLCA and NAGAFF is said to have led to the grounding of CRFFN.
There was no disagreement; we are going to start talking now. We are not getting any younger and what has been the disagreement between ANLCA and NAGAFF is the sharing formula for Practicing Operation Fees (POF) and that has been the problem and ANLCA claims to be the oldest association which is very funny because if you are the oldest licensed customs agent association, then it is good to you; it is not in contention, they are not a freight forwarding association. NAGAFF is number one and we have a wider scope to cover, I consider it as arrant nonsense when they say ANLCA will take 60 pre cent and NAGAFF 40 per cent.
Hasn't this disagreement on sharing formula led to the grounding of CRFFN?
It has not led to the grounding of CRFFN. It is just that it started on a wrong footing. CRFFN started to fail because they were not able to interpret the act that has membership as individuals, corporate and associations.
The first maiden elections started crumbling when they used corporate body licensed by Nigeria Customs Service which does not make sense because freight forwarding is not customs licensed regulation. People carried ANLCA syndrome into CRFFN which made a whole lot of mess. Instead of having a council that is inclusive, the council became exclusive and that is where the problem started. We are trying to gather the pieces.
The issue of Nigerian Ports Authority (NPA) charging terminal operators in US dollars has become a major source of concern to many. The Central Bank of Nigeria (CBN) restriction of importers of 41 items from accessing the official foreign exchange window has also wiped away cargoes from the port.
When you look at the Standard Operating Procedures of Nigerian Ports Authority, you will see there is a caveat there that the Managing Director (of NPA) has the powers to vary certain conditions especially when matters have to do with issue of payment. Under the circumstance that we have found ourselves, I expect the MD of NPA to exercise her discretion in the interest of the public, port and protecting the investors. When you look at the exchange control as at the time when terminal operators came in about 10 years ago, it was about 120/130 naira to a dollar but today is almost 500 to a dollar, how do they pay?
There are other issues like cargo throughput. You find out that payment is made on each cargo that comes into the country to NPA, only for the same cargo to be moved to Ikorodu terminal, as overtime cargo, outside the control of the terminal operators; yet they have made payment to NPA on it under the throughput arrangement. There are issues people need to discuss. Don't forget that operators are investors who need to make returns and marginal profit on their investments. I hope the system is not pushing them to the point of frustration. I think the government should listen to them.
Please accept my condolence on the recent death of NAGAFF President. What is the way forward for the association?
It is quite a great loss but unfortunately many people do not know who the president of NAGAFF was. He was on the quiet side and he was the Deputy National President Airport Logistics for some time before he became the President under our leadership succession system. He was groomed to take on the responsibility because it is not just anybody that can be the President of NAGAFF. NAGAFF is not just as association, it is a movement.
Copyright Ships & Ports Ltd. Permission to use quotations from this article is granted subject to appropriate credit given to www.shipsandports.com.ng as the source.