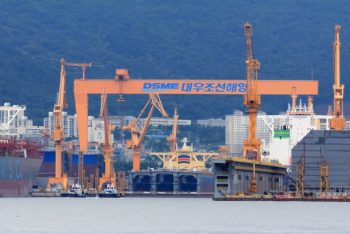 By Michael Schuman
Any horror aficionado knows that the only good zombie is a dead zombie. Don't risk trying to bring one back to life. It'll just come back to bite you.
Apparently, policymakers haven't watched enough B-movies. Worried about layoffs and soured loans, governments and banks across Asia continue to dole out cheap financing and other support to keep failing firms — corporate zombies — alive. The hope is that they'll become sustainable businesses again if growth revives. But in fact, these same companies are undermining the global economy, wasting resources, stifling productivity gains — and thus forestalling the very recovery they're hoping will save them.
Look, for example, at what's happening right now in South Korea to troubled Daewoo Shipbuilding & Marine Engineering Co. Ltd. On March 23, the Korea Development Bank and Export-Import Bank of Korea, both state-run, agreed to lend the ailing shipbuilder $2.6 billion and swap debt for equity to prevent a likely default. In a statement, KDB warned that if Daewoo were to go bankrupt, "the loss to the country's economy could be vast as the whole shipbuilding industry could collapse and financial institutions could face further losses."
It's true that Daewoo is suffering amid a terrible slump in the entire shipbuilding and shipping industry, hit hard by the slowdown in global growth and trade. Another Korean giant, Hanjin Shipping Co. Ltd., sank into bankruptcy last year. Daewoo's creditors are probably hoping a bailout now can sustain the company until conditions in the sector improve.
This is a familiar movie, however. Less than two years have passed since Daewoo Shipbuilding received an earlier bailout of fresh loans and a debt-for-equity swap. In fact, the company began life — if you can call it that — as a financially strapped, unfinished shipyard that the government foisted onto a reluctant Daewoo business group in 1978. Then, when the Daewoo conglomerate collapsed in the wake of the Asian financial crisis in the late 1990s, Daewoo Shipbuilding was yanked out of the wreckage and spun off into an independent firm in 2000 with — wait for it — another debt-for-equity swap.
Certainly, there's a price to be paid for forcing a company like Daewoo into bankruptcy. Workers will probably be laid off. Banks will rack up bad loans. But there's an even larger cost to keeping zombies around. A January study by the Organization for Economic Cooperation and Development blamed zombies — defined here as old firms that have had persistent difficulties paying interest on debt — for contributing to slow productivity gains, and thus sluggish growth, in the developed world.
Zombie companies deprive healthy firms of expansion opportunities and create barriers to entry for new, young companies — all of which suppresses investment. For OECD countries, the authors link the increase in zombies compared to the period before the 2008 financial crisis to a 2 percent cumulative loss in investment and a 0.7 percent loss in employment. In light of the meager growth and persistent unemployment that were features of the poor, post-crisis recovery, such missed opportunities to create jobs and encourage investors are clearly meaningful.
"The results show that the prevalence of and resources sunk in zombie firms have risen since the mid-2000s and that the increasing survival of these low productivity firms at the margins of exit congests markets and constrains the growth of more productive firms," the study's authors contend.
Yet somehow policymakers remain convinced that they can defy the market. In China, top government officials have repeatedly broken promises to kill off zombies in sectors with excess factories and large debts. In steel — one of China's premier economic zombielands — operating capacity, by one estimate, actually increased in 2016. Though bankruptcies are also on the rise, the number of ailing firms remains huge. He Fan, an economist at Renmin University in Beijing, recently calculated that roughly 10 percent of listed companies in China qualify as zombies — a figure he believes underestimates the extent of the problem.
By wasting money on dying enterprises — and adding to the corporate sector's massive debt load in the process — Chinese officials are saving jobs today only by sacrificing the growth, employment and innovation the economy will need in the future. "Zombie enterprises are holding back economic recovery in China," Renmin's He wrote. "Their existence prevents resources from being reallocated to more productive industries, resulting in an uneven playing field."
There are lessons here for the U.S. In his quest to revive American manufacturing, President Donald Trump must be careful not to use big government to overturn the verdict of the market — say, by imposing high tariffs or taxes to counteract the cost benefits of producing goods outside the country. Factories that can only survive under such protection wouldn't technically be zombies, but they'd have a similar effect on the economy. By preventing offshoring — a different sort of "exit" — Trump could save a few jobs, but only by placing a burden onto consumers, in the form of higher prices, and shareholders, in reduced corporate profits. Watch your horror movies: Zombies always create more zombies.
Michael Schuman is a journalist based in Beijing and author of "Confucius: And the World He Created."