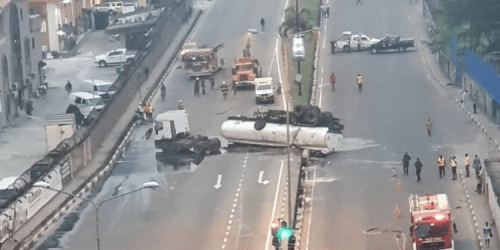 Ozumba Mbadiwe road in Victoria Island, Lagos has been in a lock down after a tanker carrying 33,000 litres of petroleum product fell and spilled its content on the road.
The incident, which occurred at 6.45am on Friday, caused heavy gridlock in the area.
Director-General, Lagos State Emergency Management Agency (LASEMA), Oluwafemi Oke-Osanyintolu, said one of the tyres of the truck conveying the diesel burst while in motion and the truck ran over the highway median, resulting in the fatal fall.
Two of the tanker's compartments were said to open, spilling 22,000 litres of diesel in the process.
It was learnt that the yet-to-be-identified driver of the truck with number plate KRD-280XN sustained injuries and had been taken to the hospital for treatment.
Emergency responders involving the Lekki Response Squad alongside the Bravo Team (Paramedics) of LASEMA, LASTMA, Lagos State Fire Service, Federal Fire service, LCC and policemen were said to have cordoned off the area of the accident and created a diversion to ease vehicular movements.
Oke-Osanyintolu said, "On getting to the scene of the incident, a white coloured unbranded tanker with number plate KRD-280XN laden with 33,000 litres of AGO (diesel) was found to have fallen on Ozumba Mbadiwe Avenue.
"Further investigation revealed that one of the truck's tyres burst while in motion. This resulted in the vehicle running over the highway median while the tanker compartment detached, flipped over and rested on its head.
"Two compartments of 11,000 litres each had already discharged their contents on the road while the last compartment containing 11,000 litres remained intact. The road was cordoned off on both sides of the highway and a diversion created to ease the movement of traffic.
"The combined efforts of the Sharks (Lekki) Response Squad alongside the Bravo Team (Paramedics) of LASEMA, LASTMA, LASG FIRE, FED FIRE, LCC, and the Nigeria Police worked together for a swift recovery. The road is being prepared for reopening while the single casualty- driver, 32, with suspected internal injuries, has been taken to hospital by the Lasema paramedic team."
Copyright Ships & Ports Ltd. Permission to use quotations from this article is granted subject to appropriate credit given to www.shipsandports.com.ng as the source.