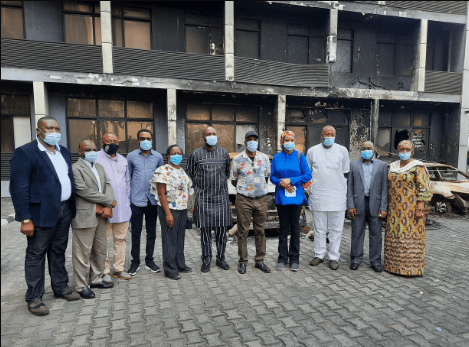 The Minister of Transportation, Rotimi Amaechi, visited the partly-burnt headquarters of the Nigerian Ports Authority (NPA) on Sunday, expressing shock at the extent of damage to the six-storey building.
Amaechi also said that the perpetrators of the act should be punished.
The annex building of the NPA headquarters located in Marina Street, Lagos, was set on fire on October 21 by suspected hoodlums under the guise of the #EndSARS protest. The protest, which was initially peaceful before it was hijacked by thugs and miscreants, was originally organised to protest police brutality in the country.
The arsonists also damaged several vehicles parked in the NPA premises and stole several computers, printers, photocopiers and other office items.
Amaechi, who could not hide his shock at the sight of the burnt headquarters annex building, said "This is completely disastrous, and I believe that it is not enough to vent your anger about police brutality, how does this concern the police?
"Whether you like it or not, this would be refurbished and rebuilt, and it is all government funds. In other words, it also belongs to those that set this place ablaze. In governance, those who commit crimes should be held liable, and appropriate punishment should be meted out to them."
He recalled that he also took part in civil protests in the part but did not burn down public property.
He said, "From Buhari, up to Babangida, we were always on the streets coming out for protests. It is legitimate to protest, but it is illegitimate to take other people's rights, the right to protest is defined in the laws of Nigeria, it doesn't include burning people's houses, major or minor roads.
"It shouldn't end here, if we don't punish those who did this, then others might do it again."
"I have made decisions that NPA should come to cabinet and ask for reconstruction, depending on integrity because we don't want to expose life," he added.