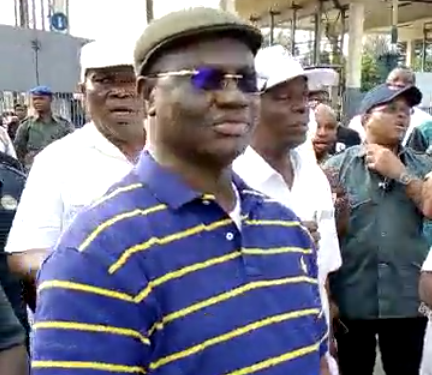 The meeting between the Maritime Workers Union of Nigeria (MWUN) and the Nigerian Port Authority (NPA) to prevail on the International Oil Companies (IOCs) to pay dockworkers their wages ended in a deadlock on Wednesday as the union vowed to continue with the strike action until their demands are met.
Port activities were in the early hours of Wednesday shut down as the union barricaded the Lagos Port Complex, Apapa, preventing workers and clearing agents from accessing the port.
The President-General of MWUN, Comrade Adewale Adeyanju, told journalists that the union would continue with the strike action until the outcome of a meeting with the NPA management scheduled for 1pm on Wednesday.
However, speaking with SHIPS & PORTS shortly after the meeting, Adeyanju said the IOCs were yet to respond to the union's demands.
He said, "We have registered our annoyance with NPA over what is on ground, but there is no blueprint from the IOCs to confirm whether they are serious on our demands so the strike continues. NPA is still making arrangement to meet with them and I think the IOCs are now panicking."
Meanwhile as the strike action, which paralysed activities at all the nation's seaport entered day two, clearing agents have decried the adverse effect of the strike on cargo clearance at the port.
A frontline clearing agents, Frank Aliakor, who spoke with SHIPS & PORTS, described the ongoing strike action as worrisome.
He said, "The strike is affecting us as clearing agents. We were surprised when we came to the port yesterday and find out that the gate had been shut. Some of us have containers to load but we can't do anything now. It is worrisome for us because we have over 20 containers but we can't load."
MWUN had embarked on the strike action on Wednesday following refusal by the IOCs to pay dockworkers employed by NPA appointed stevedoring contractors their wages.