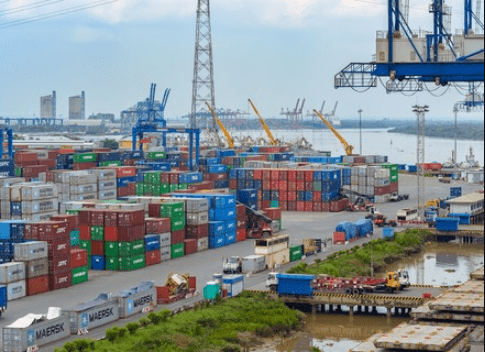 Container cargoes moved by Vietnamese ports grew by 21% year-on-year, to more than 14.7 million TEU during the first half of 2021, according to Hoang Hong Giang, Deputy Director of the Vietnam Maritime Administration (VMA).
Export cargo was nearly 4.8 million TEU, achieving a growth of 20% while import volume grew 21% to total more than 4.7 million TEU, Hoang said.
The volume of freight cargo through Vietnam's seaports this year reached more than 425 million tonnes, an increase of 6%, compared to the same period in 2020, despite the impacts of COVID-19. Export cargoes via this route totalled around 106 million tonnes in the same period, increasing 9%, year-on-year.
Hong Giang added that in the period under review, goods transhipped within the country reached about 184 million tonnes, equivalent to a 7% increase compared to the same period of the previous year.
VMA statistics show that this year several seaports in Vietnam experienced large increases in containerised cargo volume such as Thai Binh (65%), Dong Thap (56%), Quang Ngai (38%), Hai Phong (16%) and Ho Chi Minh City (9%).
According to the Vietnam Maritime Corporation (VIMC-former Vinalines), seaports under the corporation's management handled 67 million tonnes of cargo in the first half of the year and recorded revenues of more than VND4.5 trillion, a year-on-year increase of 124%. Seaports earned pre-tax profits of over $42.9 million in the first half of the year, double that of the same period in 2020.
After prolonged loss-making, VIMC's shipping division has started making profits. The successful securing of lease contracts for numerous ships and a five-fold increase in freight rates for the Eurasian maritime route also contributed to the profit.
VIMC chairman Le Anh Son said the volume of transported goods will be negatively affected in the second half of the year because of the current COVID-19 outbreak in the south, where key economic and industrial zones are located.