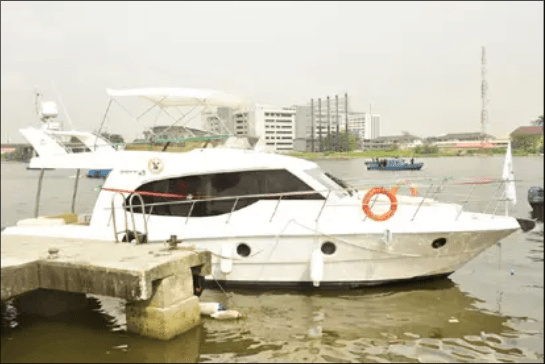 Boat drivers in Lagos have lamented the difficulties they face and the dangers passengers are exposed to while commuting when it rains.
During a chat with SHIPS & PORTS, the boat operators said operating during the rainy season has made their work more difficult.
"The experience is never friendly, especially during the rainy season. Our fronts are beclouded and we don't know what is ahead of us; whether there is a wood or anything coming, we don't know. Many a time, the water from the rain splashes into our eyes hindering us from seeing," Oluwagbemiga, a boat operator at Liverpool area of Apapa, Lagos, told SHIPS & PORTS.
Another boat driver named Oyewumi said the situation is even more dangerous with wrecks littering various sections of the waterways in Lagos.
He said, "What we encounter during the rainy season is not funny. I'll implore the Lagos State Government to make provision for rescue boats in case there's a boat wreck. This is because 100 percent safety is not guaranteed during circumstances like this.
"However, if it does happen, there should be another boat ready to rescue passengers from drowning."
Head of Operation, Lagos State Waterways Authority (LASWA), Ibrahim Famuyiwa, however said that patrol and rescue boats are available to rescue passengers during emergencies.
"Most times, we inform our Coast Guard to instruct our operators not to transport passengers until the atmosphere is normal. However, as requested we'll put all hand on deck to see to it.
"However, we want to appreciate the Lagos State Governor, Babajide Sanwo-Olu who has been magnanimous enough to provide us with patrol boats. Yet, we believe hopefully that soonest, the number would increase. We have them, but they are not enough," he said.
Boat accidents are common in Nigeria with many commuters losing their lives to rickety crafts, wrecks, bad weather and lax observance of safety measures.
Just last week, a passenger boat heading to Badagry from Five Cowries Terminal, Ikoyi malfunctioned while underway amid heavy rainfall in Lagos.
The 18 passengers of the boat, including children, were, however, successfully evacuated from the craft amidst the heavy downpour that characterised the Lagos metropolis on Friday July 16, 2021.