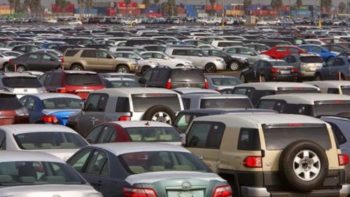 The Nigeria Customs Service (NCS) says it will only seize vehicles without paid duty on inter-state roads.
Joseph Attah, customs acting spokesperson, said this on Tuesday.
On March 2, the service announced that it would seize uncustomed vehicles (vehicles without paid duty) after April 12, and it directed owners of such vehicles to get the necessary customs documents before the deadline.
It also directed vehicle owners to go its zonal offices across the country to verify the authenticity of their customs papers or risk the seizure of their vehicles.
But the directive was greeted with a loud outcry from Nigerians which forced the senate to intervene.
The upper legislative chamber asked Hameed Ali, comptroller-general of customs, to suspend the action pending an investigation into it.
But Ali rebuffed the resolution of the senate, and he reinforced his position by stating that the action would go on as planned.
This irked the senate which then summoned him to appear in his uniform on Wednesday.
But Attah said the service never planned to seize vehicles without customs documents on inner-city roads, but on inter-state roads as it had always done.
He said the directive was misconstrued.
He said, "We have always been impounding vehicles without duties. It is normal customs enforcement. It is not a new thing," Attah said.
"Before now whenever you are driving inter-state, customs will stop you, is that not so? That will continue. Some people are saying we want to do so within the city. That's not true."
He added that the customs only gave a one-month "grace" for people who know that duty had not been on their vehicles to do so.
Copyright Ships & Ports Ltd. Permission to use quotations from this article is granted subject to appropriate credit given to www.shipsandports.com.ng as the source.