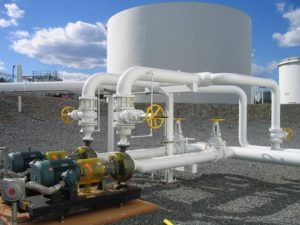 An oil depot or oil terminal sometimes called a tank farm is an industrial facility for the storage of oil and petrochemical products, from which these products are usually transported to end users or further storage facilities. The major challenge of tank farm operations in Nigeria is the means of transporting the products from these facilities to consumers of the products. Oluwatoyin Amao seeks the views of young Nigerians on the operation of tank farms in the country, especially in Apapa.  
These tank farms are used to store oil and are located where it can be easily transported. Operation of tank farms in Nigeria especially Apapa which has the highest tank farm in Nigeria and it serves as the main depot for the storage and distribution of crude oil and Nigeria depends solely on the availability of energy and fuel for production. Since Nigeria pipelines are not well structured, the best storage is the use of tank farm and no further production is done; the tank farms are just for storage. Apapa tank farms are poorly regulated and it has caused hazard to the community due to failure of maintenance of national pipeline. Nigeria depend mostly on Apapa tank farms. Apapa port being the busiest in West Africa and close to the tanks farm causes a lot of mayhem to the Apapa society, causing problems such as traffic jam, bad road, pollution etc. The operation of tank farms in Nigeria serves as a medium of ending fuel scarcity where excess fuel are stored for further consumption, these tanks are constructed for storage purposes and when scarcity occurs, crude oil are been discharged to reduce the scarcity and it also has an impact on Nigeria. I feel tank farm operation is very important to the Nigerian system and it can only be if proper measures are taken to reduce risk or hazards to the harbouring communities and government should take measures on securing lives and properties.
Olabanji Dayo
Festac Town, Lagos
Tank farms are called oil depots or oil terminals and they are used to store crude oil in large quantities at a place to ensure the pipelines and refineries are always running. This has made Apapa a gridlock harbour because tankers park on the road thereby blocking the highway and causing pains and discomfort to other road users as if Nigeria is in a state of anarchy and absolute lawlessness.
The current model is clearly not working for Nigerians and government should put an end to it, Nigeria needs to make the rail system work as well. For an economy of the size of Nigeria to be efficient in every sense, it must have a functional rail system.
Oludare Olaniyi
Lagos
Activities and operation of tank farms has helped to improve the economy by maintaining the chain of product supply in the country. It has also ensured flow of product to meet national and local supply of petroleum product. However, its activities within Apapa is rather appealing, this is because of the indiscriminate driving and parking of trucks on the road by drivers. This has continuously cause gridlocks and pains to road users due to the seamless traffic experience on the road. Therefore, there is need for both the federal government and State government to build and maintain a trailer park, which will help to reduce the traffic congestion and gridlocks experienced by road users and commuters within Apapa.
James Asadu
Gariki, Enugu 
As the 'giant' of Africa and a crucial member of the organization of petroleum exporting countries (OPEC) one of the best ways Nigeria can sustain and meet the demands of her growing population of over 170million to people is to always store the petroleum products for the raining day. It is worthy of note to state clearly that the best way to store the Petroleum Motor Spirit (PMS) is through the tank farms as it ensures continuous and stable supply. Also if properly manage; tank farms are safe and healthy way of preserving the petroleum products. Hence, the operation of the aforementioned tank farms in Nigeria especially in Apapa, Lagos is very impressive and sagacious move to enable the country to satisfy Nigerian and to also meet the global standard of storing petroleum products by other oil producing nations. Furthermore, the tank farms are needed not only in Apapa but also in all the six geopolitical regions in the county to ensure that all Nigerians feel the presence of our precious natural resources at all times and to prepare for a likely scarcity of the products in the nearest future.
Abdulrasheed Yusuf
Ojodu Berger, Lagos
The operation of tank farms in Nigeria especially in Apapa to be specific has not been properly maximized to its full potential because Nigeria as a nation has three refineries in Warri, Kaduna and Port Harcourt but none of them has lived up to expectations or is working perfectly leading to the creation of tank farms in the country. Another factor that leads to the creation of tank farms in the country is the issue of pipeline vandalism. So we now depend on the tank farms for the storage of our petroleum product in the country, which is very dangerous to us as a nation that depends mainly on Apapa tank farms. Apapa metropolis houses the busiest sea port in sub-sahara Africa which comprises of Apapa and Tin Can Island port which makes it a very busy place. With 200 tank farms, this makes the environment very insecure for business and residential because we don't have maintenance culture to prevent the hazard it can cause to the nation. In case of fire outbreak, we don't have good fire fighters that can help in putting the fire off which can cause havoc to our economy because that is the heartbeat of Nigeria economy.
Habeeb Olabanji
Lagos
Tank farm operations is always going to be a positive and welcome development as long as the tenets of health safety and environment are observed to the later and this will help address the following: provision of massive employment opportunities, provision of government revenue, infrastructural development, reserve of petroleum products, curbing of scarcity and its attendant issues.
Kelechi Uchedu
Lagos
Operation of tank farm in Nigeria has been a welcome development for its purpose but the sad side of this development is that it opened Apapa to chaos and the safety and security of people around the area and within a 40 kilometers-range are at great risk.
Kareem Adegoke
Ojo, Lagos
Tank farm is a very crucial and important factor in Nigeria's economy, as the eyes are very sensitive and highly delicate in a human organ. Though I don't live in Apapa, but I feel the tank farms constitute and holds 90% of the petroleum product in Nigeria and the masses depend on this for survival (directly or indirectly). All factors such as food, shelter, employment, prices and inflation rate, education and life measures that is life expectancy rate; are tied and affected to the energy and fuel production in Apapa's tank farm. So as a result, an alteration in these depots or terminals can jeopardize the economy because it is a very sensitive and important factor towards Nigeria's existence. It should be noted that about 200 of thesedepots and terminals are operated by roughly, if am not mistaking 50 private companies or organisations, which generate a major source of revenue from it. An undetected leakage on these oil can lead to oil spillage running through the ocean, rivers or lakes and affecting the survival of living organisms. So as a result there should be government measures in inspecting, monitoring and controlling the oil production and consumption.
Muhammed Ameen Muheeb
Ikorodu, Lagos
The longer one brainstorms, the clearer it becomes that as a country, the Apapa tank farms are as important to Nigeria as the head is to the body of an organism. The Apapa tank farm holds about 90 per cent of Nigeria's petroleum products and as we all know, all industries directly or indirectly run or depend on petroleum products for survival.
Storage of imported petroleum products is the single most delicate economic activity in the present day Nigerian economy. This storage depot of over 200 tanks of explosive fuel, owned by about 50 private companies represents the foundation and lifeblood of the entire Nigerian existence. Everything is tied to the availability of energy and fuel for production: prices, inflation, employment, food, education, life expectancy. Therefore, any disaster experienced within that facility will immediately ripple across the entire nation. These tank farms hold the energy supply and distribution capability of almost the whole Nigerian state within its walls. It also happens to be highly explosive, volatile in nature and at present poorly regulated.
Tobi Adebiyi
Lagos
Copyright Ships & Ports Ltd. Permission to use quotations from this article is granted subject to appropriate credit given to www.shipsandports.com.ng as the source.