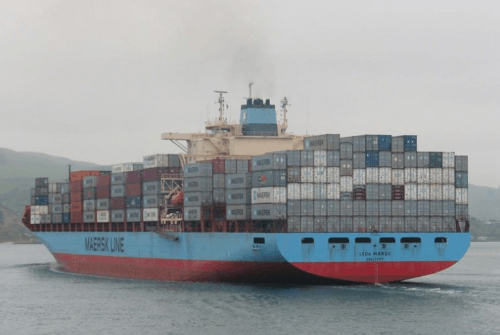 A failure of Leda Maersk's crew to fully use electronic navigation aids was one of the factors that led to the containership's grounding in New Zealand waters last year, an investigation has shown.
On June 10, 2018, the Danish-registered boxship operated by shipping giant Maersk Line arrived off the Port of Otago, embarked a harbor pilot, and proceeded up the Lower Harbour channel during the hours of darkness.
The Post-Panamax was rounding the final bend in the channel before reaching its berth when a combination of factors caused it to deviate from the planned track in the center of the channel, and ground on the left channel bank. Nobody was injured and damage to the ship was confined to scraping of the paintwork on the hull.
The Transport Accident Investigation Commission (TAIC) conducted an investigation and found that neither the harbor pilot nor the ship's bridge team recognized that the Leda Maersk was deviating from the planned track.
As explained, this was because they were all primarily navigating using visual cues outside the ship, rather than fully using the electronic navigation aids, all of which clearly showed the ship deviating from the center of the channel.
In addition, the commission found that the standard of bridge resource management on the bridge of the Leda Maersk fell short of industry good practice and that the Leda Maersk bridge team was not fully following the company policies and procedures for navigating in pilotage waters.
According to TAIC, at the time of the grounding, Port Otago's policies, procedures and compliance monitoring of pilotage operations fell short of meeting good industry standards outlined in maritime rules and the New Zealand Port and Harbour Marine Safety Code.
In a conclusion, the commission recommended that the Chief Executive of Maersk Line A/S review the implementation of the company's safety management system across its fleet with respect to navigation and pilotage and take the necessary steps to ensure a high standard is achieved by all crews on all its ships.
Built in 2001, the 4,258 TEU Leda Maersk has a length of 265.84 meters and a width of 37.3 meters. It is deployed on Maersk Line's Southern Star service which calls between South East Asia, Australia and New Zealand on a weekly, fixed-day schedule.  
Copyright Ships & Ports Ltd. Permission to use quotations from this article is granted subject to appropriate credit given to www.shipsandports.com.ng as the source.