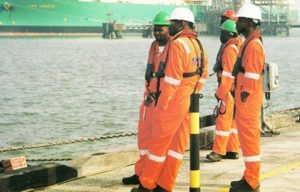 The Alumni of Maritime Academy of Nigeria Oron (AMANO) has blamed the Federal Government for its failure to make Nigerian seafarers competitive in the labour market.
In February, SHIPS & PORTS exclusively reported that the Maritime and Coastguard Agency of the United Kingdom approved the Certificates of Competency issued to seafarers by the Ghana Maritime Authority (GMA), even as it continued to reject the CoC issued by Nigeria. The rejection of the country's CoCs means seafarers trained in Nigeria would not be able to work on UK and Red Ensign flagged vessels.
Speaking to journalists recently on the sidelines of the association's 2022 stakeholder's forum in Lagos, the President of AMANO, Emmanuel Mauguwa Ganiko lamented the inability of Nigeria-trained seafarers to make appreciable progress in their careers due to several constraints.
"Another situation is when a country is not able to certify her own seafarers – a situation whereby a country cannot provide career progression to her seafarers. Officers are not able to get to the next road having qualified. When such happens, the seafarer looks for an alternative like obtaining licenses in the United Kingdom. This often comes with a temptation to relocate with their family. Without any sentiment, his initial plan might not be to relocate but due to the fact that he wants a career progression, he relocates.
"What are the challenges causing this? Number one is license procedures. The difficulty in preparing our seafarers identification documents, and the bilateral relationship between Nigeria and other countries to enable employment of Nigerian seafarers on non-Nigerian flag vessels are negatively impacting our seafarers. The welfare of seafarers, career development progression and availability of platforms are part of the setbacks.
"At this juncture, government agencies are expected to buckle up in order to make seafarers eligible and qualified to be able to work onboard foreign vessels," he said.