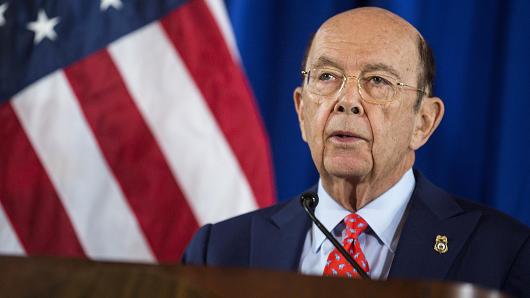 U.S. Commerce Secretary Wilbur Ross denied that he engaged in insider trading when he short sold stock of a shipping company a few days before news organizations revealed it was linked to close associates of Vladimir Putin.
Ross, who wasn't required to divest his holdings in shipping companies, shorted stock in Navigator Holdings Ltd. on Oct. 31, a day after a reporter from the New York Times contacted him seeking comment about his stake in the company and its dealings with a Russian energy firm. The transaction at issue was worth between $100,000 and $250,000, according to disclosure forms Ross filed with the Office of Government Ethics.
Shares in the stock declined 3.9 percent between Oct. 31 and Nov. 16, when Ross closed out his short position.
Navigator Holdings' Kremlin connections were revealed in November. News organizations that are part of the Washington-based International Consortium of Investigative Journalists published reports based on documents leaked from the Bermuda law firm Appleby to the German newspaper Suddeutsche Zeitung that were shared with the consortium.
The documents showed that Navigator Holdings did substantial business with a Russian energy firm called Sibur, whose owners include Putin's son-in-law Kirill Shamalov and Gennady Timchenko, a Russian oligarch. Both are subject to American sanctions.
Russian Connections
Ross received a letter from the New York Times, which is an ICIJ member, on October 26 explaining that it was writing a story on his involvement with Navigator Holdings, the newspaper reportedTuesday. It asked ten questions, including about the company's Russian connections.
"The reporter contacted me to write about my personal financial holdings and not about Navigator Holdings or its prospects," Ross said in a 660-word statement on Tuesday providing additional details about the transaction. He added that he did not receive any non-public information due to his government position or from government employees.
"The fact that the reporter planned to do a story on me certainly is not market moving information," Ross said.
Ross noted that the transaction had been reviewed and approved by government ethics officials. The Office of Government Ethics certified Ross's disclosures of the short sale and other transactions on Monday after a review that determined they complied with federal ethics laws.
OGE reviews determine whether reported transactions comply with federal conflict of interest and disclosure requirements. The agency does not have investigative powers.
Financial Disclosure
In his initial financial disclosure form, provided to OGE in January 2017, Ross disclosed that the entities that held his stake in the shipping company, as well as other assets, were valued at $2 million to $10 million. Officials disclose the value of their assets in broad ranges.
Ross said he sold those holdings in May 2017, which he "believed at the time was the extent of my interest in Navigator." He later learned that he had a small amount of additional holdings due to his service on the company's board from 2012 to 2014. Ross chose to divest those shares as well, he said in the statement.
Because Ross didn't have physical possession of the shares, he said he executed the short sale to divest as quickly as possible and to comply with New York Stock Exchange rules that require shares to be transferred within two days of the sale.
'Borrow Shares'
"I had to borrow shares in Navigator equal to the number of shares I sold to complete the transaction under the NYSE rules," Ross said in the statement. "I then replaced the borrowed shares with the shares held in my name when I received them a few weeks later."
Ross noted that both transactions were reported in disclosures to the Office of Government Ethics.
Forbes initially reported the transactions on Monday. Ross's short position could have financially benefited him when negative information about the company came to light, it reported, which Ross disputed. "I received the value of the shares as of the short sale date," he said.
He didn't explicitly say whether he made or lost money on the transaction. Ross held the position until November 16, a second filing with OGE shows.
Source: Bloomberg