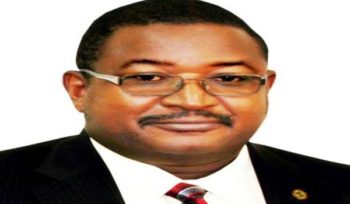 Former Group Managing Director, Nigeria National Petroleum Corporation (NNPC), Dr. Andrew Yakubu, has said that he was prepared to prove his innocence over allegation of false declaration of assets, even as he said that the Economic and Financial Crimes Commission (EFCC) was yet to charge him for any offence.
Yakubu also accused the EFCC of denying him access to medical attention which he said he desperately need.
The former NNPC boss is currently being detained the EFCC following an alleged recovery of $9,772,800 and £74,000 cash from him.
He claimed that the money was a gift.
A Federal High Court has already directed that Yakubu who was reportedly transferred from its Kano facility where he was being held to Abuja should forfeit the money to the government.
In a statement made available to newsmen in Abuja, counsel to Yakubu, Ahmed Raji, SAN, said "within this time also, our client has been denied access to adequate medical attention which he desperately needs."
Raji also said that even though his client voluntarily presented himself to the anti-graft agency, he has not been charged for any crime either by the EFCC or any agency of government.
Raji said the statement became necessary in view of media report alleging that his client is currently facing charges for under-declaration of assets and illegal transactions, stated that "Within this time, no formal charges has been brought against our Client by the EFCC or any other government establishment for any offence whatsoever as widely spread in these media reports.
"In view of the foregoing facts, our Client has sought an enforcement of his fundamental human rights before the Federal High Court, Abuja in an action constituted as FHC/ABJ/CS/126/17 between Engineer Andrew Yakubu vs EFCC.
"Our Client has been detained by the Economic and Financial Crimes Commission (EFCC) for more than a month since he voluntarily presented himself to them at their invitation and has fully cooperated with investigations."
He stressed that his client was determined to prove his innocence and willingness to clear his name in due course.