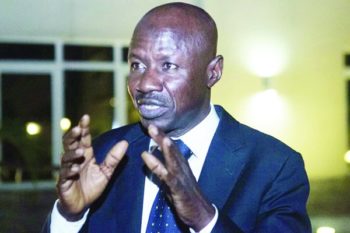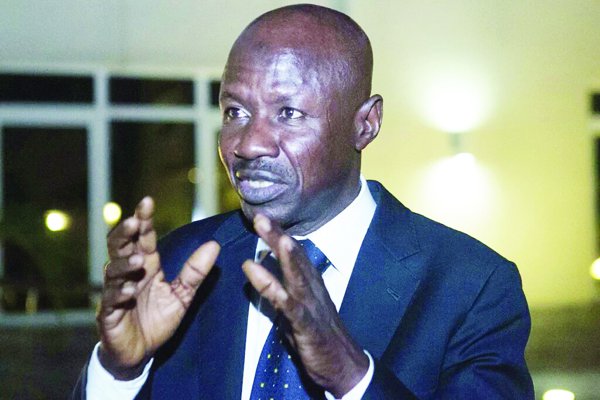 Acting Chairman, Economic and Financial Crimes Commission (EFCC), Ibrahim Magu, has said that corrupt tendencies were more pronounced among males than females.
"Looking at the number of people that have been apprehended by the commission, the number of men involved outnumbers the women," Magu said on Friday, in Abuja,
Magu made the statement when the executive committee of the National Council of Women Society (NCWS), paid him a courtesy visit.
He said, however, that women were not pure or immune to greed, but that were only less corrupt.
Magu described women as nation builders, stressing that their roles in ensuring the right societal values could never be over-emphasized.
The EFCC boss stressed the need for collaboration between the commission and NCWS in the fight against corruption.
He explained that the commission had never undermined the rule of law in its anti-graft fight, adding that the EFCC, aside tackling economic crimes, was working hard to put an end to political corruption.
"We respect the independence of the judiciary and auditing bodies in our efforts to ensure that the corrupt are prosecuted, while stolen assets are returned," he said.
Magu craved women's support in the fight against corruption, and disclosed that the Lagos zone of the "Women Against Corruption" would be launched on Feb. 22, 2016 to enlist that support in the battle to rid Nigeria of the menace.
Earlier, Dr. Gloria Shoda, President, NCWS, had said that achieving developmental goals would only be possible when resources in public trusts were properly utilized.
"Such misuse of resources has always been the problem in the country," she declared.
Shoda commended President Muhammadu Buhari's consistency in the fight against corruption, saying that it had raised the benchmark in public service.
According to her, the behavioural changes have become evident while compliance to the rules of due process are encouraging.
She said that EFCC had proved effective in government's bid to arrest the tide, and expressed readiness to partner with Buhari and EFCC toward restoring Nigeria to the path of dignity and glory.
The NCWS official challenged the Federal Government to extend the vigour put into fighting corruption, to sectors like education, roads, healthcare and security.
"We want a Nigeria where our agricultural sector is functional and ranked among the best in the world, not just for the sake of economic diversification," she said.
Copyright Ships & Ports Ltd. Permission to use quotations from this article is granted subject to appropriate credit given to www.shipsandports.com.ng as the source.