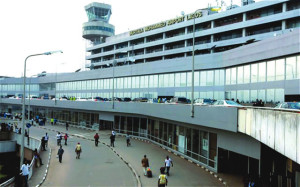 National Agency for Prohibition of Trafficking in Persons (NAPTIP) on Tuesday said 10 Nigerian children have been rescued from human traffickers planning to fly them to Russia and exploit relaxed visa controls for the World Cup.
NAPTIP said five suspects, including a policeman and a quarantine officer, were arrested at the Murtala Muhammed International Airport (MMIA) Lagos, for allegedly recruiting the victims – nine girls and a boy – and facilitating their travel.
The children – who were all in possession of a FIFA fan pass – were intercepted by officials as they tried to board a flight to Moscow on Saturday night, according to the agency.
Five other potential victims, also children, were stopped from boarding when staff noticed they only had one-way tickets.
Officials in Nigeria said last month they had intelligence showing plans were underway to traffic local women to Russia for the World Cup, taking advantage of Moscow's decision to let spectators enter the country with just a ticket and a fan pass.
"The agency will not give traffickers any opportunity to use the World Cup to ferry Nigerians out into a life of misery abroad," NAPTIP's Director-General Julie Okah-Donli said in a statement.
Visa-free entry to Russia was trialled at the Confederations Cup in Moscow last year, and will apply to the entire World Cup, which runs across 11 Russian cities from June 14 to July 15.
Julia Siluyanova of Russian anti-slavery group Alternativa last month told the Thomson Reuters Foundation the eased visa rules were a "present for traffickers", as its normally strict system had typically made trafficking time-consuming and costly.
Many women and girls have been lured from Nigeria in recent years with promises of work and good wages only to end up sold for sex and trapped in debt bondage, and the World Cup could see the number of victims arriving in Russia soar, Siluyanova added.
NAPTIP is also trying to crack down on the trafficking of thousands of Nigerian women and girls to Europe each year, who take boats from Libya to Italy, before being trapped in sex work.
The number of female Nigerians arriving in Italy by boat surged to more than 11,000 in 2016 from 1,500 in 2014, with at least four in five forced into prostitution, according to data from the International Organization for Migration (IOM).
Copyright Ships & Ports Ltd. Permission to use quotations from this article is granted subject to appropriate credit given to www.shipsandports.com.ng as the source.