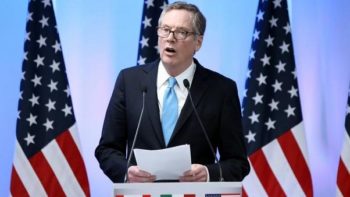 U.S. President Donald Trump's trade chief said on Monday that the World Trade Organization (WTO) is losing its focus on trade negotiations in favour of litigation and needed to rethink how it defines developing economies.
Setting a combative tone at the start of the WTO's 11th ministerial meeting in Buenos Aires, U.S. Trade Representative Robert Lighthizer complained that too many countries were not following WTO rules and too many wealthier members had been given unfair exemptions as developing countries.
"We need to clarify our understanding of development within the WTO. We cannot sustain a situation in which new rules can only apply to a few and that others will be given a pass in the name of self-proclaimed development status," Lighthizer told the conference's opening session.
Lighthizer said it was impossible to negotiate new WTO rules when many of the current ones were not being followed, and added that too many members viewed exemptions from WTO rules as a path to faster growth.
In a thinly veiled swipe at China's trade practices, Lighthizer said the United States was leading negotiations to "correct the sad performance of many members in notification and transparency."
He also said Washington wanted the WTO to help make markets operate more efficiently, addressing new challenges such as chronic industrial overcapacity and the influence of state-owned enterprises.
Lighthizer, who has long criticized the WTO's dispute settlement system, has emerged as the leading voice behind the Trump administration's "America First" trade agenda. That includes stepped up trade enforcement actions, along with several studies that could lead to broad new tariffs on steel and aluminum, as well as potential retaliation against China's intellectual property practices. Some of these could run afoul of WTO rules. 
Copyright Ships & Ports Ltd. Permission to use quotations from this article is granted subject to appropriate credit given to www.shipsandports.com.ng as the source.