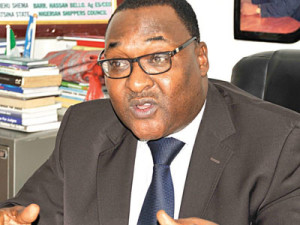 The ministerial implementation committee for the establishment of the national shipping fleet is in talks with the African Development Bank (AfDB) and the African Export-Import Bank (Afreximbank) for provision of a special fund from where Nigerian investors could obtain loans for the purpose of investing up the 60 per cent rightful stake in the planned national carrier.
When established, Afreximbank demands that a couple of vessels owned by the company will be dedicated to African trade to help develop exportation of agricultural products within and among African nations, as well as beyond the continent where the products are in high demand.
Chairman of the committee and Executive Secretary of the Nigerian Shippers' Council, Hassan Bello in exclusive chat with SHIPS & PORTS DAILY on the issue disclosed that the talks have reached advanced stage, as the committee leaves no stones unturned in its efforts at actualizing the establishment of the shipping line.
Having appointed a transaction adviser which is guiding the committee on the project, including its financing, Bello said the committee is currently deliberating on many issues bothering on investment and sustainability of the shipping line, which is driven by private sector.
He said, "We are considering so many things; we just had a meeting where we are trying to crystalise a number of decisions. We have many subcommittees, such as the subcommittee on cargo studying the cargo capture. We have a very professional transaction adviser which is guiding us on financing and we have met with Africa Development Bank and African Export-Import Bank (Afreximbank) and we have made all the presentations to them. The idea is to how to get the 60 per cent of Nigerian investment. So it is going to be warehoused by them. The transaction adviser will lead us unto the criteria and the policy. But the most important thing is that the business must be owned by Nigerians, that is why it is indigenous shipping company.
"The banks have been very responsive. We have had several meetings with them but the Afreximbank is interested in African trade because they expressed concern that trade within African countries is very low and if we can get two or three ships to trade among African countries at the beginning flying a Nigerian flag, you know there is a lot of trading going on. For example, demand for Nigerian yam and some agricultural products in Europe is high now, but they have to first take them to Spain, you know from Spain, they take them to Ghana for example, or to Ethiopia. Just like if you remember the airline, when you have to go to Mauritania, you have to first go to France, then you fly back to Africa. So we are looking at that and they have been very responsive. They have their conditions and terms, but they are ready to give certain percentage as loan to the merger of which Nigerians can borrow from to invest in the venture."
According to Bello, the committee is recommending a number of incentives to the Federal Government incentives to help attract investment for the national carrier.
"One of the many incentives we are considering is tax holiday—maybe five-year tax holiday. We are looking at the possible exemption from certain levies and fees. We are also saying that when the vessels come, they should be exempted from Customs duty. So everything is systematic, but you also know that it is not only having the fleet, but how to sustain it. So we are looking at many other things like ship repair—what is the cost of taking the ships to Singapore if they have problems, you know this will erode all the capital. And then, we are looking at manning. We have to revitalize our nautical colleges like MAN, Oron to get really qualified people because we also want to indigenize the crew; they should be Nigerians. We are also looking at ship registry because they have to fly the Nigerian flag so that ship registry must be modern and responsive to modern needs of a ship.
"We are not wasting time, we are having meetings regularly and our subcommittees are coming up with all the areas to work on, like the need for government to reform Oron, and other things. Otherwise, we can have a hundred ships and they will go into extinction in a short while," he explained.