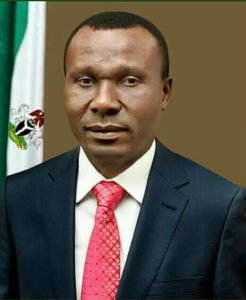 The Minister of Niger Delta Affairs (MNDA), Uguru Usani has said about 95 percent of the projects supervised by the ministry are completed.
The Minister who made this known while speaking to the press also said contractors working on roads constructions have been mobilized and they are back to site.
While narrating some of the success of the ministry in the year 2016 which includes the training of 214 women and youth in Israel in agricultural value chain, 150 youth trained in ICT, of infrastructural parks, building of housing estates in the nine States in the region he added that there are challenges that the ministry has been facing in delivery to the people of the region.
"These youth were trained and also empowered with between N300,000 and N5000,000 to start up their businesses and with result from our follow up team they are doing well in their various skills. The extent of the housing estates is for the vulnerable people or those that are not financial buoyant to get allocation" he said.
He said despite the challenges in the area of environmental issue, security, economy, capacity and organization, that have risen over the period, he added that the they have been doing what they can to for the development of the region while adding that everybody's cooperation has been enhanced.
"We spent good time putting in place organization because people's opinion tends to be that the ministry is just a place where militants come in whenever they are agitated.
"It should be notable that the ministry trains non-militant youth while the Amnesty wing trains the militant youth of the region.