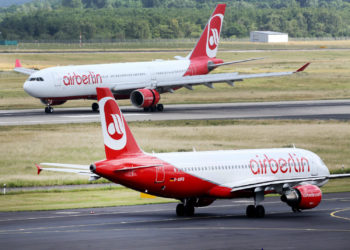 The Air Berlin pilots who performed an unusual maneuver on the airline's last long-haul flight to Duesseldorf in October did not break any rules and will not be fined, the German air traffic regulatory agency said on Tuesday.
The pilots of flight AB7001 from Miami with 223 passengers on board made a low pass over the airport after aborting a landing on Oct. 16, and videos of the move went viral on social media. One of the pilots told a TV broadcaster he wanted to make a farewell statement.
Pilots are trained in "go-around" procedures for aborted landings, but the left turn over the airport performed by the Air Berlin crew was unusual and so German aviation authorities investigated the incident.
After examining radar data and voice recordings, the BAF federal regulatory agency for air traffic control determined that the pilots had asked for permission from the airport tower to carry out the left turn in plenty of time.
"The BAF came to the conclusion that the relevant permissions had been given and from the point of view of the air traffic controllers, all the relevant safety conditions were met," the federal regulatory agency said.
Air Berlin filed for insolvency in August after years of losses, carrying out its final flights in October. Some of its operations in Berlin have gone to easyJet, while Lufthansa is awaiting permission to take over its regional unit LGW.
Administrators are seeking a new buyer for its Niki holiday airline business after Lufthansa scrapped a deal following competition concerns.
Agency Report