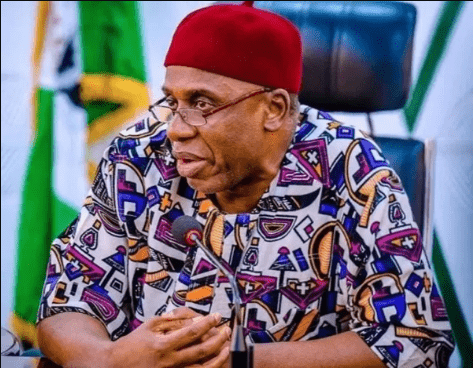 The Minister of Transportation, Rotimi Amaechi, has said that the construction of river ports across the country is a waste of public funds as they are not viable projects.
Amaechi stated this on a television programme monitored by SHIPS & PORTS on Tuesday while answering question on why the multibillion naira Baro river port is yet to commence operation two years after its commissioning by President Muhammadu Buhari.
The Minister said if the lower River Niger is not dredged, no vessel would be able to sail to Baro port.
He said, "I had this conversation with my friend, Senator Goje about the viability of the river ports that we have including Onitsha, Baro, Lokoja and Oguta river ports and I felt that it was a waste of funds.
"The reason is that for you to have those river ports functional, you must have to dredge River Niger. For now, even if you dredge, it is still 2.5 to 3 metre draft, which determines the vessel that can go there and the minimum you can have is a six-metre vessel. There is absolutely no vessel that will come in there at 2.5 to 3 metres draft.
"The idea when the Baro port was concessioned is that you pick up a cargo maybe in Warri or Port Harcourt because Lagos is too far, and put it on a barge and move it to Baro. But how many times will the barge be able to move those cargoes to Baro?
"For the man who imports through Lagos or Port Harcourt, if he puts it on a train, he arrives the same day, and there is no issue of insecurity unlike the man who has taken the cargo from Port Harcourt seaport to Baro by barge.
"They wanted the port constructed, so we completed it. My responsibility is to construct a Baro port and I have constructed it. As Minister, I did engage the public that these are the problems we will face when we finish this Baro port. First Nigeria does not produce anything in the first place so what are you going to transport?  If we make the Apapa seaport very efficient, then we don't even have enough cargo."
The Baro river port, which was built by the National Inland Waterways Authority (NIWA) at the princely sum of N5.8 billion, was commissioned by President Muhammadu Buhari in January 2019.
The President had during the commissioning said that the inland port would enhance intermodal transportation connectivity in the country, reduce pressure from big trucks off the road and create "huge employment opportunities for Nigerians, while also decongesting other busy ports".
However, despite the economic benefits taunted by the government, port has remained dormant since commissioning.