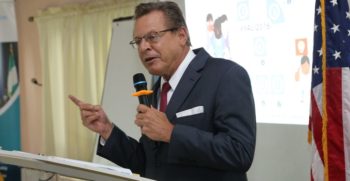 United States Consul General in Lagos, John Bray has said lack of access to foreign currency and inconsistency of duty payments are some of the reasons why Americans refraibn from doing business in Nigeria.
He said though Americans see the Nigerian market as massive, young and growing, but lack of transparency with government and inadequate infrastructure to support value chain scare potential investors from doing business in the country.
The US Envoy also listed the ever rising and unpredictable energy cost and security concerns for its personnel and investments as some other challenges that inhibit his country from doing business here.
Bray, who has served as consul general in Lagos for over a year, spoke Tuesday during the Nigerian-American Chamber of Commerce (NACC) business dialogue with the theme: Improving the Ease of Doing Business in Nigeria, where he gave these as reason why Nigeria rates an "intolerably low" 169 of the 190 countries on the World Bank Index of Ease of doing Business Rating.
The Envoy however lauded the Federal Government Recovery and Growth Plan initiative as a one-stop shop whose success will be determined by executing its plan and a common resolve and commitment of government and civil societies to work together in new and innovative ways.
"I can promise the US Government will be Nigeria's biggest cheerleader and we will be available with ideas, programmes, and media connections to strengthen Nigeria's economy.
"We at the Lagos Consulate and Embassy in Abuja know of these challenges and tend to sit on the positive side of this pendulum. We know that the challenges are small and Nigeria has the talent, resources and ability to fix all these problems I have mentioned.
"Have actionable ideas and know that you don't need to solve the problems all at once, but start with something manageable," he added.
On his part, NACC President Olabintan Famutimi noted that as a bilateral chamber, it is ever ready to mobilise investments from the US to Nigeria and attract prospective investors and enable Nigeria attain her potentials in the comity of nations.
He however commended government for establishing the Enabling Business Environment Council geared towards improving Nigeria's poor ranking on the global ease of doing business index and the upgrade of the Corporate Affairs Commission online portal to ensure document upload capabilities.
On inconsistency in government policies, Famutimi said: "Onerous regulations, multiple taxes and unfriendly government officials can divert the energies of entrepreneurs from developing businesses."
He also said government has not demonstrated integrity and has been most notorious in failing to pay its debt and honouring contractual obligations.
President of the Nigerian Stock Exchange, Aig-Imoukhuede, who gave the keynote address, lamented the retrogressive ranking of Nigeria's index from 94th position in 2006 to 169.
Reeling out various factors responsible for the decline in service delivery, he noted that Nigerians services are not service oriented but, bureaucratic ineffective and inaccessible.
The Stock Exchange boss said though there is a 20 percent improvement in tax payments and a 4 percent increase in electricity supply, trading across borders and other aspects of the economy is regressively poor.
He called for a massive paradigm shift and a change in the attitude and capability of those at the gates and public servants as a necessary means of changing Nigeria's ease of doing business ranking.
Giving an insight into the thrust of government policy behind the Presidential Enabling Business Environment Council (PEBEC) model, Senior Special Assistant to the President on Industry, Trade and Investment, Jumoke Oduwole called for strong political will of leaders; interministerial collaboration and the cooperation of Millennium Development Agencies.