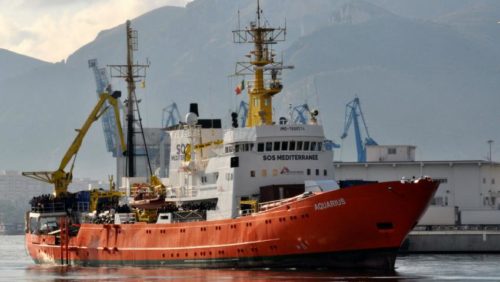 Citing harassment from Italy and other countries, the last refugee rescue ship working in the Mediterranean Sea, Aquarius, has ended her operations, French NGO Medecins sans Frontieres said late on Thursday.
"This is a somber day," Medecins sans Frontieres's Director-General, Nelke Mander, said in a statement. "The end of our operations on-board the Aquarius will mean more death in the sea, deaths that are avoidable and without witnesses."
The decision to moor the Aquarius is the result of a "constant denigration, smearing and obstruction campaign led" against Medecins sans Frontieres and SOS MEDITERRANEAN by the Italian government and supported by other European countries, the NGO said.
The Aquarius was recently accused of trafficking waste and criminal activities — accusations that are "ludicrous", Medecins sans Frontieres said.
Italian Interior Minister, Matteo Salvini, has repeatedly closed Italian ports to the Aquarius, forcing it to sail for days with dozens of rescued migrants aboard to find a port in other countries.
Salvini has refused to take more migrants from the Aquarius, demanding other European Union countries take a share of migrants. He also said the rescue ships like Aquarius encouraged people to take the sea to cross towards Europe.
Europe has seen the biggest influx of people for decades in the past three years, many fleeing conflicts and poverty in the Middle East and Africa. Sea arrivals have dropped sharply, but the political aftershocks are still reverberating.
The ship was commissioned in February 2016 and has rescued almost 30,000 people in international waters off Libya, Malta and Italy. She has remained moored on Marseilles since Oct. 4, after transferring 58 migrants from Malta during her last mission.
Medecins sans Frontieres estimates 2,133 people died attempting to cross the Mediterranean in 2018, mainly embarking from Libya.