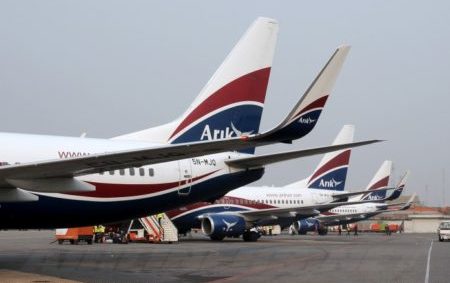 Arik Air, one of the domestic airlines operating in Nigeria has announced the resumption of flight operations to Osubi Airport, Warri with effect from Oct. 26.
The announcement follows the reopening of the airport by the Nigerian Airspace Management Agency (NAMA).
Arik's Chief Executive Officer, Capt. Roy Ilegbodu, said in a statement on Thursday that Arik would operate two flights daily from Lagos to Warri and one from Abuja to Warri.
He said, "Arik Air is pleased to welcome passengers back on the Lagos-Warri and Abuja-Warri routes with a promise of on-time departures and great customer experience."
NAMA had on Sept. 3, closed Warri airport due to a dispute with the operators over high navigational charges by the agency.
The move irked stakeholders, including the Aviation Round Table and Safety Initiative, a group of aviation professionals, due to the loss of revenue suffered by airlines using the airport.
The group had said that operators and NAMA should have agreed on tariffs before the deployment of air traffic services.