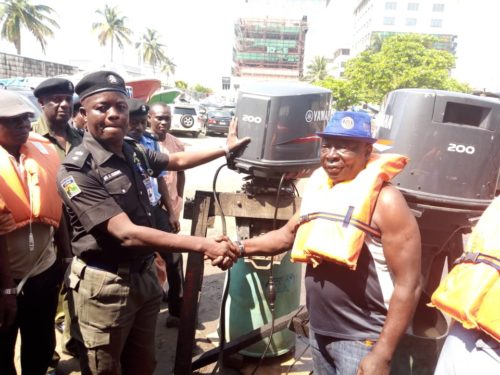 The Association of Tourist Boat Operators and Water Transporters of Nigeria (ATBOWATON) on Wednesday handed over three outboard engines it refurbished to the Marine Police.
Speaking at the event, the National President of the Association, Ganiyu Balogun, said that the gesture was to assist the Marine Police in fighting crime and surveillance on the waterways.
"We implore the Marine Police to kindly accept this as our contribution to support their relentless services to our dear nation, most especially our riverine community, boat operators, boat users and the general public," Balogun said.
According to him, the association appreciates the Marine Police's effort in combating crime and in the recovery of its members' engines stolen by bandits.
He said, "We had a meeting with the Assistant-Inspector General of Police and the State Marine Officer where they emphasized the enormous task and notable role being played by the Nigeria Police Marine Division in combating crimes in the state and their various roles in dislodging sea pirates from Lagos State waterways. They even went further to combat criminals at the Ode-Omi border creeks between Ondo and Ogun States, which resulted in killing the leaders of the pirates and damaging some of their engines.
"At the gathering, ATBOWATON pledged to assist the Command in refurbishing their damaged engines and also assist them to boost their crime fighting and surveillance activities on our waterways."
Receiving the refurbished boat engines, the State Marine Officer of the Nigeria Police, CSP Benjamin Ogungbure, expressed appreciation for the group's kind gesture.
He said, "I want to thank ATBOWATON for repairing these three refurbished 200HP Yamaha outboard engines of the Lagos State Marine Police Gunboats.
"We all, as mariners, know too well the high cost of maintaining boats in security coverage of the Lagos State waterways.
"Security, as we have it today, is everybody's business, and to this end, ATBOWATON has really demonstrated this by repairing three of our broken down Yamaha outboard engines.
"I wish to state that the Marine Police will use these engines judiciously and continuously provide security for all waterway users and residents along the Lagos State waterways.
The National Inland Waterways Authority (NIWA), was represented at the event by Engineer Stanley Onuoha, while the Lagos State Waterways Authority (LASWA) was represented by Falase Pekun.