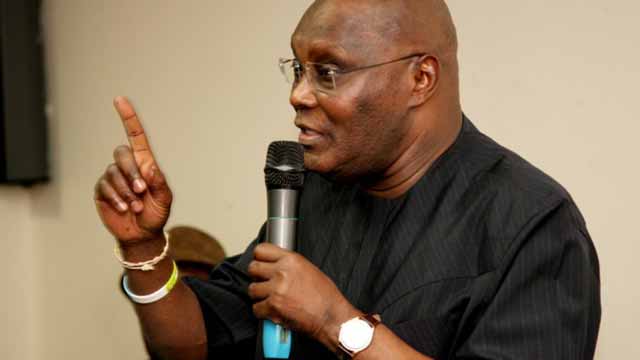 The Abubakar Atiku campaign organization has described plan by the Federal Government to sell some public assets to fund the 2018 budget as irresponsible.
The organisation in a statement on Wednesday likened the decision as selling one's "family house to take a trip overseas on holiday".
The government recently revealed its plan to raise N289 billion from the sale of 10 public assets to fund the budget.
But on Wednesday, Atku's campaign organisation criticized the plan as ridiculing President Muhammadu Buhari, who had accused the PDP of failing to build public infrastructure in the 16 years it was in power.
The organisation, which claimed that most of the assets listed for sale were built during successive PDP-led administrations, wondered what asset the government was planning to sell if as the president claimed, the PDP did not build any infrastructure while in power.
The organisation claimed that some of the assets listed for sale were the creation of Atiku, when he was vice-president and head of the Economic Management Committee during the Obasanjo administration.
"His Excellency, Atiku Abubakar, supervised the successful policy of privatisation. Privatisation works because it is a long-term strategy to engender efficiency in the economic system and expand the frontiers of private sector activity. Its primary goal is NOT to raise money for short term stabilisation of what is clearly a fragile fiscal system. The government's planned sale of assets will cause long term pains and only provide short term gains," the campaign organization said. 
It advised that rather than sell public asset, the Federal Government should device alternative means of revenue generation as against its almost complete reliance on the proceeds of oil and cutting of recurrent expenditures.
"We knew that such a day would come, which is why His Excellency Atiku Abubakar has on various occasions made it clear that what is needed at this time is fundamentally fiscal restructuring to eliminate our addiction to oil revenues and strengthen our internal revenue generating capacity and a restructuring of the budget in favour of capital spending.
"It makes no sense to sell public assets simply to fund a 'business-as-usual' budget that is essentially 70% recurrent. It is irresponsible to part with valuable assets simply to consume the proceeds (Like selling your family house to take a trip overseas on holiday)," the group said. 
The Atiku campaign organization also criticsed the Buhari administration's approach to spending and borrowing. 
"For instance, last month, the PDP presidential candidate questioned the wisdom behind the Federal Government sharing $322 million Abacha loot to certain Nigerians, only to obtain a $328 million loan from China, allegedly for ICT development.
"Rather than share that money, the Buhari administration ought to have put that $322 million in an escrow account to be used for funding the 2019 budget.
"Also, we recall that $43 million was found in an Ikoyi apartment. While we note the failed promise of the Buhari administration to come clean on who was behind those monies, we make bold to say that those funds should equally have been placed in escrow for use in funding the 2019 budget," it said.   
We pay for your stories! Do you have a story for Ships & Ports? Email us at [email protected] or call 0810 359 4873. You can also WhatsApp us here. We pay for videos too. Click here to upload yours. 
Copyright Ships & Ports Ltd. Permission to use quotations from this article is granted subject to appropriate credit given to www.shipsandports.com.ng as the source.