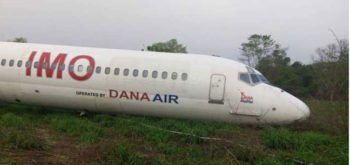 Recent news from our aviation sector are everything but palatable. From the emergency door of Dana Air in Lagos to another Dana aircraft overshooting the runway in Port-Harcourt, and now Arik Air Lagos-Accra smoke in the cabin incident. On Tuesday 6th of March, an Arik flight from Lagos to Accra, Ghana was reported to have initiated an emergency landing after the pilot detected smoke in the cabin. A statement released by the company states that an emergency was declared in line with standard operating procedures 81 miles from Accra, the destination.A separate account presented by one Chyme who claims to be on the flight tells the experience with more detail. He reported that when the smoke had permeated the cabin, the expected safety packs were unavailable in the cabin; and instead passengers were handed tissue papers in place of oxygen masks to cover their nose before the pilot declared emergency with 15minutes of flight time left. He said "everyone prayed to God. To the glory of God, the flight successfully landed by 8.15pm. We were evacuated into a waiting bus… sadly there was no Arik official to address us neither was there any manner of first aid attention given to passengers to manage stress and possible elevated blood pressures".This is the third incident involving a Nigerian airline in the last four weeks and we can no longer pretend that all is well with our aviation industry.
Much as we all must frown at avoidable events of this nature, what is more worrisome is the inaction and indifference after the event. The management of Arik would want us to disregard the account of a passenger but the press release of the company clearly does not make reference to any first aid effort by airline. Smoke in a plane cabin is scary enough to trigger heart attack for people with heart related ailments, and one would have expected a responsible airline to arrange first aid for passengers the moment they disembarked. But obviously we seem to care less about human lives in this part of the world, and it is now a norm. It is high time we stopped referring to these incidents as minor issues; we should not trivialise human lives. The truth before us is that the safety measure in our aviation industry needs urgent review. The House of Representatives must be commended for debating the recent events and summoning the Minister of Aviation and other relevant agencies in the industry. As rightly stated by the lawmakers the NCAA needs to urgently carry out an audit on all airlines to ascertain the true state of local aircrafts and their airworthiness. The worrisome thing is that in the end nothing tangible emanates from these summons, probes and directives; everything is usually settled at the dinning and wining table of politicians.
This has again brought to the fore the need to pay attention to our aviation industry. The airlines are barely surviving; they are struggling to remain in business. These hazards are symptoms of a failing industry with no effort whatsoever to rescue it. The average lifespan of a local airline is said to be between 8 and 10 years because of the harsh business environment. Many Nigerian pilots and other professionals are jobless after spending so much on certification. While operators in the industry are groaning, passengers are also suffering. A recent study by EnoughisEnough Nigeria (EiE) reveals that more than 60% of local flights are delayed, while many were cancelled with no explanation or compensation. This is clearly a fall out of the inadequacy of the available fleet. The combined available aircraft fleet in Nigeria is put at 41 for a country of 180million people, when less than 10 years ago a single airline in the country could boast of 40 aircrafts. Our aviation industry is truly on a spiral descent.There are too many concerns with the industry.
Much as the challenges facing the industry are highly appreciated, we cannot lower our standards in air safety. Human lives are way too precious to toy with.The Nigerian Civil Aviation Authority, NCAA, needs to investigate the event and take necessary precautions to mitigate a repeat of such. The recent events in the industry are becoming too scary. No right thinking Nigerian would expect another era of crashes. I know we pray against these events in our religious gatherings, but prayers alone cannot avert crisis. There is an impending danger before us in the aviation industry. These are warning signs that all is not well and we must act now. We need to put our house in order to forestall major accidents. Every Nigerian life matters.