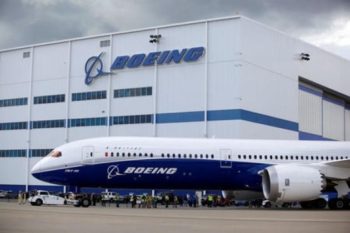 Boeing says it will press for deeper price cuts from suppliers with overlapping operations once it completes its planned acquisition of the regional jet business of Brazil's Embraer.
"The key thing you are going to see is that through the combination between Boeing and Embraer, we will be able to increase volume for our supply chain, which is generally going to be beneficial. And that beneficial volume should also turn into more affordability and competitiveness," Chief Executive, Dennis Muilenburg told Reuters on Tuesday.
Asked if he would expect further price cuts over and above those baked into Boeing's Partnering for Success cost-cutting drive, he said: "Yes. Because you'll see additional increases in volume. And a very typical discussion we'll have with our supply chain is if there's an opportunity for them to increase volume or access to additional platforms, if we can gain a cost advantage in the marketplace, that's a mutual benefit."
Boeing, meanwhile, continues to "keep a very close eye" on consolidation trends among its major suppliers and will continue to expand where it sees it necessary to support its business.
"In some cases, consolidation can be beneficial where it allows the supply chain to take costs out. If we get to a point where consolidation is reducing our sources to a level where we can't stand, we've had the opportunity to build new sources of supply. We always have that flexibility," Muilenburg said.
Agency Report