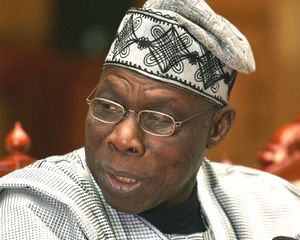 Former President Olusegun Obasanjo says both the Peoples' Democratic Party (PDP) and the All Progressives Congress (APC) are wobbling and need to be rejuvenated for Nigeria's democracy to be strong.
Obasanjo made the observation when he received one of the PDP national chairmanship aspirants, Raymond Dokpesi, at the Olusegun Obasanjo Presidential Library, on Saturday in Abeokuta.
The former president said both the ruling and opposition parties need to be strengthened for the country's democracy to be salient and strong.
"I have also said that the two parties that are there, the one in government and the one in opposition are both wobbling parties.
"I still believe that the two wobbling parties can still be made strong. They can," Obasanjo said.
He re-emphasised that he was no longer interested in partisan politics in Nigeria.
He said that he left PDP when he discovered that the party had been destroyed beyond what he could be associated with at that point.
Obasanjo said there was no reason PDP should not have ruled Nigeria for 50 years as believed by some people, but that the party caused its own problem.
"That has happened in some other countries like Germany, where a party runs the affairs of the county for decades, but of course, that is not the history in our own case," he said.
Obasanjo said those who destroyed the PDP were still in it and that they would not leave until the running of the party was taken over by "determined, selfless, upright, and honest people."
"If we are just saying PDP has a crisis, which is self-made and that the Supreme Court had resolved the crisis for us, we are just deceiving ourselves.
"The Supreme Court has taken a right decision as an apex court should, but as a party, only that cannot help you to do it all." 
He prayed for PDP to get its national convention right, saying the chairmanship of the party was very important.
"I had four PDP chairmen in eight years. So, I know what it takes to have a good or bad chairman for a party," Obasanjo said.
He advised Dokpesi to use his media asset well for the interest of the country to avoid and correct past mistakes.
Obasanjo, who said that he and some other Nigerians worked hard for the success of the party and the county, advised PDP to manage its success.
Speaking earlier, Dokpesi, the founder of Daar Communications, said he was in Abeokuta to seek the prayer and blessings of Obasanjo in his ambition of becoming PDP national chairman.
He said anyone aspiring to be national chairman of a political party must consult with the former president.
"I am much aware that you are not interested in partisan politics but you are the father of the nation. You are much committed to the unity, stability and continued existence of this country.
"You have dedicated all your life to the building of this country. Therefore, anything that is good for this country is a matter of interest to you,'' Dokpesi said.
He said that PDP would continue to plead for the forgiveness of Obasanjo for its "trespasses and transgressions."
He was accompanied to Abeokuta by federal lawmaker, Yisa Braimoh, and PDP governorship aspirant in Delta State, Esther Uduehi.  
Copyright Ships & Ports Ltd. Permission to use quotations from this article is granted subject to appropriate credit given to www.shipsandports.com.ng as the source.