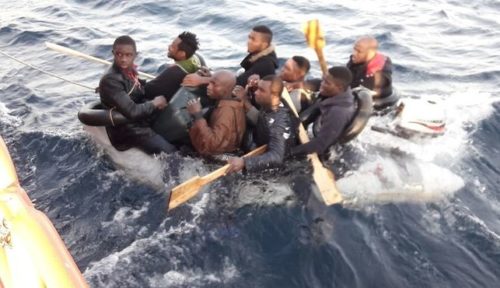 Officials have picked up nine migrants who were trying to cross the English Channel aboard an inflatable boat, French authorities said Wednesday.
This is a day after 17 migrants succeeded in reaching Britain in a stolen fishing boat.
"Overnight towards 4.00 am (0300 GMT), what appears to be an inflatable boat carrying nine people crossed over to England after apparently leaving from Calais in northern France," maritime authorities said.
A French helicopter was dispatched but the vessel was finally intercepted near Dover by British authorities, they added.
The group included both adults and children, French officials said.
A group of 17 Iranians — 14 men and three minors — had reached Dover on Tuesday after stealing a fishing boat from the French port of Boulogne-sur-Mer and hotwiring it.
Ingrid Parrot, spokeswoman for maritime authorities in northern France, said that crossing was "unprecedented", noting that migrants had previously attempted the crossing in much smaller boats.
British officials said the Iranians' asylum cases would be reviewed.
Thousands of migrants from Africa, the Middle East and Asia attempt to reach Britain by stowing away on trucks crossing to England, mainly through Calais.
Far fewer attempt the crossing by sea.
So far this year French maritime authorities have launched 23 operations either to rescue migrants at sea in the English Channel or to stop groups about to set sail.