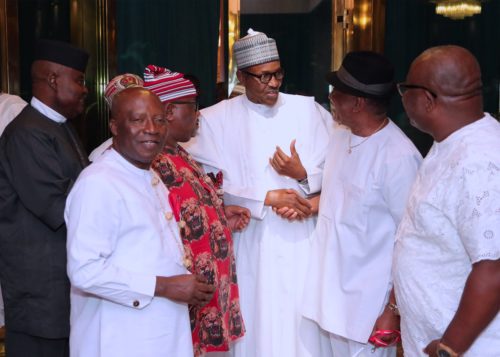 President Muhammadu Buhari on Friday expressed hope that new investment commitments coming into Nigeria's textile sector will be actualized within the shortest possible time.
Buhari expressed his concern on Friday in Abuja while receiving traditional rulers from Abia State led by His Royal Majesty, Dr Isaac Ikonne, Enyi 1 of Aba.
He assured the monarchs that the issue of unstable electricity and other basic infrastructure in Ariaria market, a major trading hub in West and Central Africa, would soon be a thing of the past.
In a statement by the Special Adviser on Media and Publicity, Femi Adesina, Buhari also reaffirmed his administration's commitment to rapidly industrialize the country through projects that promote import substitution.
The President said the investments in the textile industry would create thousands of jobs for youths in Aba.
He said, "Just last week, I was in China to attend the Forum for China-Africa Cooperation. During that visit, I personally met with executives of one of the largest cotton and garment companies in the world who will soon establish operations in Aba.
"This is following a joint effort of attracting this investor by both the Federal and Abia State Government.
"The proposed investment will create thousands of jobs for the vibrant and creative youths in Aba.
"I am very excited about this project. I have directed the Hon. Minister of Industry, Trade and Investment to ensure this investment is actualised within the shortest possible time."
On Ariaria market, the President recounted that during his visit to Aba in 2015 as a presidential candidate, he was warmly received and walked through parts of the market where he observed the lack of electricity and other basic infrastructure for its over 40,000 shops.
"As a government, we issued a presidential mandate to the Ministry of Power, Works and Housing and the Rural Electrification Agency to energise the market.
"In June 2018, the Nigerian Electricity Regulatory Commission granted an electricity generation licence as well as a distribution licence for the market. This will enable the generation and distribution of 9.5 Megawatts of electricity within the market.
"The project is moving smoothly and I have been assured the market will be fully electrified soon. We are working closely with the State Government, Local Government, Traditional Rulers, Market Associations and the community on this project to ensure this goal is actualised by the end of the year," he said.
Eze Ikonne lauded the President for successes recorded so far since he assumed office in 2015, particularly in the fight against corruption, agricultural revolution, infrastructure development and security.
On infrastructure development in the South East, His Majesty said, "Mr President, I thank you for the massive federal roads rehabilitation going on in the South- East; like the Enugu-Aba-Port Harcourt expressway, Port Harcourt-Elele-Owerri road, Enugu-Onitsha expressway.
"These roads were death traps for 16 years before you came into office, but today they are wearing new solid looks, though not completed but relief is already there with the level of work done so far."