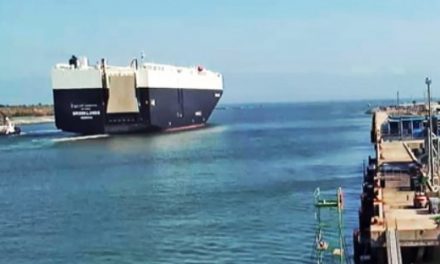 Car carrier shipping is expected to continue its recovery from the trough of 2016 supported by improving utilisation, but headwinds still exist, according to shipping consultancy Drewry.
Increasing localisation and the threat of trade wars will slow finished vehicle cargo growth, while carrier operational efficiency will be challenged by the emergence of new trades and ports of call, Drewry said in a report.
Seaborne trade in finished vehicles has recovered strongly from a low in 2016, recording growth of approaching 6% in 2017 to 37.5 million CEU. Meanwhile, growth in the specialist car carrier fleet has stagnated, forcing idle ships back into employment, and is expected to remain so with the orderbook at an historic low.
Drewry said that this will support rising utilisation and stronger freight rates over the next five years, but with vessels barely breaking even this will not be sufficient to encourage further investment in the sector.
"Despite improving utilisation and a record low orderbook, owners and operators are holding off acquiring capacity, whether through ordering, sales and purchase or chartered in tonnage, as trade uncertainty weighs on the market," said Tom Ossieur, Head of Car Carriers at Drewry.
The recent recovery in finished vehicle trade is being challenged by the threat of higher auto trade tariffs, increasing localisation of production as well as a shift in car sales growth from mature to more volatile emerging markets.
Higher bunker costs and the impending low sulphur fuel regulations that come into force in 2020 will however add to costs.
"Overall, car carrier efficiency has fallen by 39% since 2007 as vessels sail at slower speeds and spend more time in ports," said Ossieur.
"Drewry does not foresee significant improvements forthcoming. Lower speeds, shorter routes and trade lane imbalances are here to stay."
Copyright Ships & Ports Ltd. Permission to use quotations from this article is granted subject to appropriate credit given to www.shipsandports.com.ng as the source.