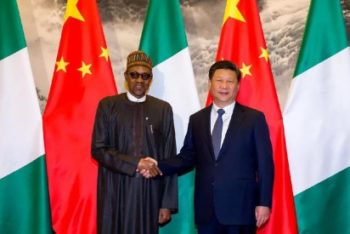 The Chinese Deputy Ambassador to Nigeria,  Lin Jing, yesterday in Abuja, said Chinese investments in country have hit over $13 billion.
He said China was also demonstrating its commitment to Nigeria's friendship and development through the $1.3billion Lagos-Ibadan Railway Project.
He added that the $326 million 30 rice mills projects slated for the various parts of the country, the China EXIM Bank funded $984 Zungeru Hydro-Electricity Project and the $450 million loan for the construction of Keffi Road, all point to his country's commitment to the growth of the nation's economy..
He spoke when he led a delegation to the National Assembly to strengthen the bilateral ties between Nigeria and China.
Jing reaffirmed China's commitment to Nigeria's development, saying that Chinese investments in Nigeria stood at $13 billion at the end of 2016.
Receiving the delegation, Deputy Senate President, Senator Ike Ekweremadu, urged the Chinese government to ensure proper and fair treatment of Nigerians working in Chinese firms in the country.
A statement endorsed by the Media Adviser to the Deputy Senate President, Uche Anichukwu, explained that while appreciating the government and people of China for their support towards Nigeria's development, especially in the areas of investments, roads, railway, agriculture, and power, among others, Ekweremadu also decried reports of alleged mistreatment of Nigerians by their Chinese employers as well as alleged illegal mining by some Chinese nationals.
He said: "We have received reports of discrimination and mistreatment of our citizens working in Chinese factories in Nigeria. We want to see more of Chinese factories and presence in Nigeria to help us reload the private sector. But, we also want to see Nigerians who work in Chinese factories treated like their Chinese colleagues. We welcome you with open hands and we expect you to also treat our people well, like your people."
Senator Ekweremadu stressed that Nigeria frowned at any form of illegal mining as it portended both economic loss and environmental hazards to Nigeria.
He said: "We will also like to see that Chinese who do business here do it in accordance with our laws. We have heard reports of some Chinese who allegedly engage in illegal mining. Nigeria is blessed with abundant mineral resources and am sure the government is ever willing to cooperate with lawful interests through licensing for the exploitation of these mineral in compliance with our laws."