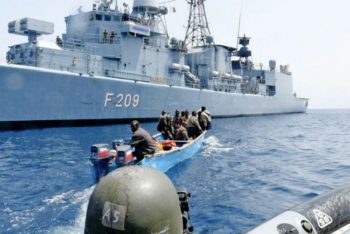 By Jite Eriabie
A destroyer from the 27th Chinese naval escort taskforce successfully dispersed a number of suspected pirate vessels aiming for two container ships on Wednesday, reports China Central Television.
At approximately 4:30pm local time, as the Haikou was escorting the vessels, registered in Hong Kong and Italy, towards the Gulf of Aden, three targets travelling at high speed were detected 5.1 nautical miles ahead.
Thanks to photoelectric sensors, the destroyer was able to ascertain that the unwelcome fleet consisted of three double-hook ships containing five people each.
The Chinese naval ship instantly accelerated to the left to intercept and initiated its anti-piracy protocol.
The offending vessels immediately turned around and fled at high speed. The Haikou was then able to lower its alert level and continue the patrol mission.
The Gulf of Aden is located in the Arabian Sea between Yemen and Somalia in the Horn of Africa.
It follows an incident in September, in which a Chinese supply ship by the name of Qinghaihu scared off nine suspected pirate vessels which had targeted a UK container ship and a Maltese freighter in the same body of water.
October also marked one year since nine of ten Chinese held hostage by Somali pirates for more than four and a half years returned to China. 
Copyright Ships & Ports Ltd. Permission to use quotations from this article is granted subject to appropriate credit given to www.shipsandports.com.ng as the source.