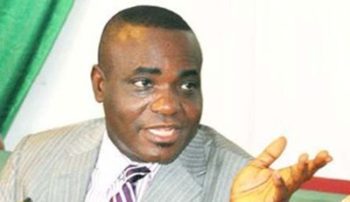 The Presidency on Wednesday said top level consultation had been initiated between the Executive and Legislative arms of government on the request by President Muhammadu Buhari to borrow $29.96 billion for infrastructural development.
The Senior Special Assistant to the President on National Assembly Affairs, Senator Ita Enang, who disclosed this, said President Buhari has not withheld his assent on the Code of Conduct Bureau (CCB) amendment bill.
Enang told journalists in Abuja that necessary legislative process aimed at paving way for the loan is still pending.
He noted that in recent times, the level of consultation between the arms of government has increased.
The consultations, he said, were intended to address and resolve thorny questions in any of the requests made by the executive.
Enang said the President and governors cannot proceed to take loan because it will become the responsibility of the entire country to pay.
He said, "The year has been very active, politically and legislatively active and I used the opportunity to comment that this present National Assembly under the leadership of Distinguished Senator Bukola Saraki and the Speaker Yakubu Dogara has been very rewarding in terms of legislation, the number of bills passed."