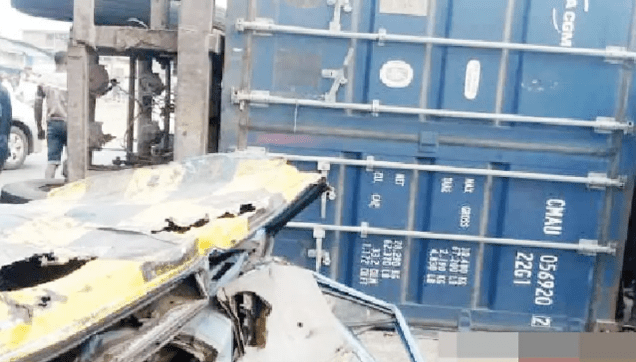 An officer of the Lagos State Vehicle Inspection Service, Hamed Baruwa, on Thursday, told an Igbosere High Court, Lagos, that the container-laden truck which crushed 27-year-old Chidinma Ajoku, Chima Nnaekpe and Daniel Okwuoge was not roadworthy.
Chidinma and her colleague, Nnaekpe, who both worked in the Commercial Department, Hajj & Cargo Terminal at the Federal Airports Authority of Nigeria (FAAN) died on July 26, 2020, when a truck with number plate SGM 715 XA loaded with a 20ft container fell on a commercial bus they were on.
The two were returning from work when the commercial bus they boarded stopped to discharge some passengers at the Isolo area when tragedy struck. The remains of the two had since been buried.
At the court on Thursday, the Attorney General of Lagos, Moyosore Onigbanjo, amended the charge against the truck driver, Sodiq Okanlanwan, and the truck owner, Wasiu Lekan, to seven counts as against the earlier three counts filed against them.
In the amended charge, Okanlanwan and Lekan are facing six counts of involuntary manslaughter and one count of liability for the safety of vehicles that killed Ajoku and two others.
When called, Baruwa, who testified as the first prosecution witness in the trial, told the court that the truck's licences were expired.
He said, "On August 6, I proceeded to Ilasamaja Police Station, where I met DSP Oluwasola Omololu, who took me to the place where the vehicles involved in the accident were parked at Balex Bus stop. I saw that the Volkswagen commercial bus was compressed because a container fell on it.
"I noticed that the truck carrying the 20-foot container, which caused the accident, is not roadworthy. I noticed that the front and back fender, the backlight and the shaft of the truck were not there."
He said he logged the truck registration number in a machine and discovered that the vehicle licence had expired since 2018.
However, the defendants pleaded not guilty to all the counts while their counsel, M. A. Osamede, urged the court for an adjournment to enable him to cross-examine the witness.
Justice Mobolanle Okikiolu-Ighile adjourned the case until August 26 for continuation of trial.
Copyright Ships & Ports Ltd. Permission to use quotations from this article is granted subject to appropriate credit given to www.shipsandports.com.ng as the source.